I bet you didn't know that today is National Hot Chocolate Day!  Who doesn't love a good, hot cup of hot chocolate on a cold winter day?  I scoured the internet for my favorite hot chocolate recipes.    I also decided to add a frozen hot chocolate recipe. It is low cal! So take a few minutes from your busy schedule, grab a good book or sit by the fire and indulge yourself.  You deserve it!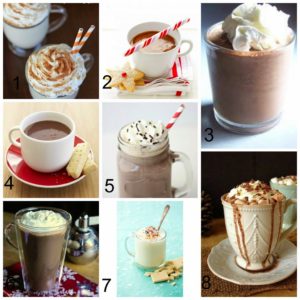 1. Pumpkin Pie Spice White Hot Chocolate comes from one of my favorite blogs, Tater Tots and Jello!  It is a guest post from No. 2 Pencil cook, bake, & create.  This would be a great hot chocolate in the fall too.  I love anything flavored pumpkin.
2. Peppermint Hot Chocolate is from the website of Martha Stewart.  This sounds absolutely delicious!  Who doesn't love peppermint at Christmas time?
3. Low Calorie Frozen Hot Chocolate I love this recipe because it's easy and so good.  I know a lot of people only drink frozen drinks in warmer weather, but this is too good to not drink all year! This is from one of my posts.
4.Mexican Hot Chocolate comes from Food Network star Rachael Ray.  My in- laws are from Mexico so I wanted to find a recipe for a good Mexican Hot Chocolate. This recipe is pretty simple too!
5. Crockpot Hot Chocolate The recipe only calls for four ingredients!  I love making things ahead of time when I'm going to have several people over.  I can just forget about it and enjoy my company. Check out The Frugal Girls many other great recipes!
6. Eggnog Hot Chocolate– Eggnog is a special treat around the holidays.  What's better than to combine two great drinks together?  This recipe is from Baking Bites.  It adds a bit of fresh nutmeg for an extra touch.  Mmm yummy!
7. White Hot Chocolate uses good quality white chocolate and rainbow sprinkles on top.  This sounds like a real treat.  Thank you Love and Olive Oil for sharing!
8. French Vanilla Hot Chocolate uses french vanilla creamer to give it that rich vanilla flavor.  It comes from Domestically Blissful.  I can't wait to try this one!