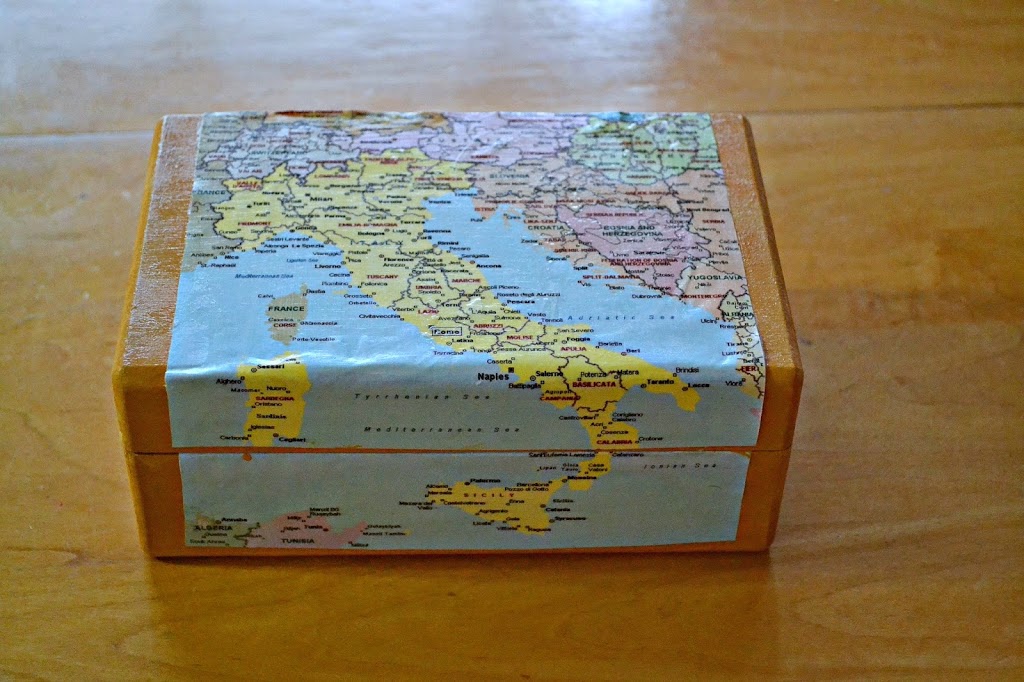 I was trying to think of something to make my dad for his birthday. It is always hard for me to find men gifts. He loves Italy and has been there several times.  I came up with a wooden box for his office. I thought what better gift than to give him something that reminds him of Italy on a daily basis!  It was actually quite simple to make. I would like to teach you how to use a map to create a beautiful wooden box. This is what you will need:
One wooden box ( I bought mine at Joann Fabric's.)
One color copy of a map of Italy ( I just googled map of Italy.)
Modge Podge
A foam paint brush
Acrylic paint in your chosen color.  (I mixed gold and yellow together.)
I gave the wooden box two coats of paint letting it dry between coats. I took my color copy of the map of Italy and cut it so that it would fit the top and bottom of the wooden box. Next I brushed some Modge Podge on the back of the map and carefully placed it on the box making sure it was smooth. I put some more Modge Podge on my brush and brushed it on the top of the map.  I did three coats of this letting it dry in between coats. Make sure to keep smoothing it out to get rid of any bubbles.  The Modge Podge acted as a sealant.  I let it completely dry and now it was ready to give as a gift!
My dad really liked it.  He keeps it on his desk to store pencils, pens and markers. You could also store paper clips, thumbtacks and the like.
Have you used maps to make crafts?  I would love to hear about them!