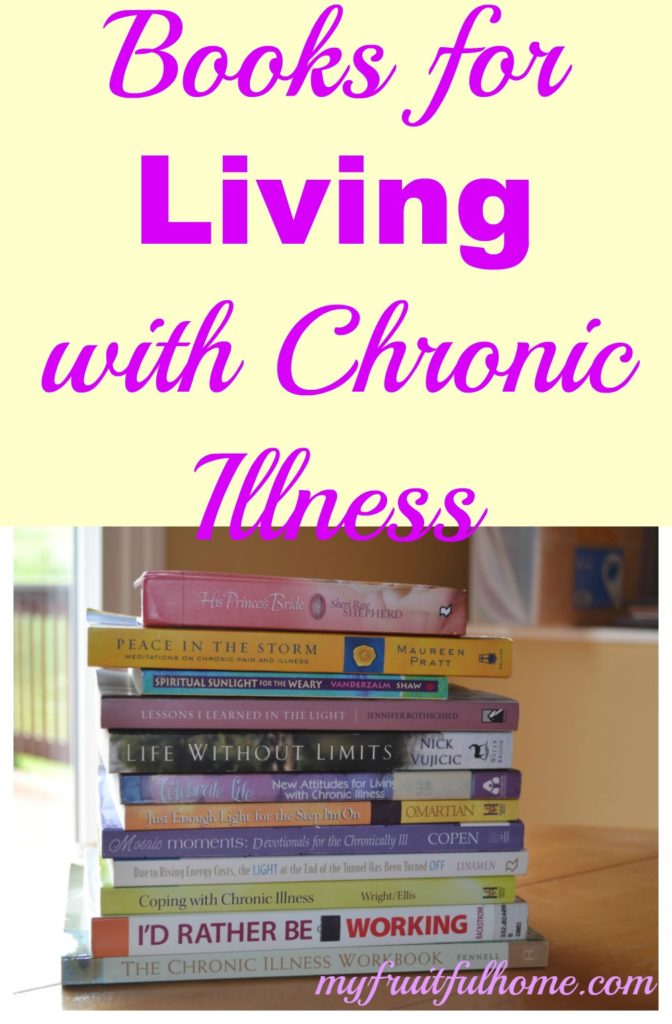 I admit that I read more nonfiction than fiction, especially when I need support and encouragement dealing with my illness.  I have acquired many books for living with chronic illness over the years, most of them through Amazon.  They have all helped me deal with living day to day with a chronic illness. I have come up with a list of fourteen books for living with chronic illness.  Some are devotionals, some are more medical in nature,  and others are humorous.
1 The first book on my list is a devotional called Peace in the Storm by Maureen Pratt.  The author of this book has had lupus for several years. She speaks as someone who knows how to deal with isolation, medical expenses and so much more.  I highly recommend this devotional. You can see my review here.
2 Spiritual Sunlight for the Weary is a book I found when I first was diagnosed with fibromyalgia and chronic fatigue syndrome.  The author Lynn Vanderzalm has had chronic fatigue syndrome for many years.  Her daughter also has it.  Some of the devotional entries are by authors with various illnesses.
3 Just Enough Light for the Step I'm On has been out for a few years, but it is new to me. I have read a few other books by Stormie Omartian and have always enjoyed them.
4 The Chronic Illness Workbook is a book I'm still working through.  It is by Patricia A Fennel.  It is a very in depth book and was recommended to me by a life coach.
5 One of my favorite inspirational books is by the name of Life Without Limits by Nick Vujicic.  He was born without arms and legs.  He has become a world wide international speaker.  You can learn more about the book in one of my earlier posts.
6 Celebrate Life – New Attitudes for Living with Chronic Illness is written by Kathleen Lewis who has lupus, fibromyalgia, and other illnesses. It is published by The Arthritis Foundation.  She has many topics such as using music to cope and asking for support.  I found it helpful and supportive.
7 Lessons I Learned in the Light is from another author I find very inspirational.  Her name is Jennifer Rothschild. She became blind at the age of fifteen and has gone on to lead a full life as a singer, speaker and author.  You can read more about her here.
8 You're Going to Be Okay- Encouraging Truth Your Heart Needs to Hear, Especially on the Hard Days.  The author Holley Gerth is one of my favorite new authors!  You can read my review here.
9 His Princess Bride by Sheri Rose Shepard is like a personal  love letter from God. I turn to this book a lot when feeling down or discouraged.  It is in a pocket size, so it's easy to take with you.  I also keep it by my bedside.
10 One website that I always go to for encouragement is Restministries founded by Lisa Copen.  She also wrote a book called Mosaic Moments, a great devotional filled with writings from her and other people living with chronic illness.
11 I'd Rather Be Working is a more technical book on how to gain employment either inside or outside the home. It is written by Gayle Backstrom. It has helpful information about the disability act and how to talk to your employer and coworkers about your illness. I haven't been able to find any other book on this topic.
12 God's Most Precious Jewels are Crystallized Tears is a book by Barbara Johnson.  I first heard of Barbara Johnson from a friend after losing my daughter. She has authored a lot of books that help deal with grief, illness, wayward children, etc.  She has a way of making you laugh and encouraging you at the same time.  I would recommend any of her books.
13 Coping with Chronic Illness has been very helpful to me.  It is written by H.Norman Wright  and Lynn Ellis.  It deals with invisible illnesses like fibromyalgia, chronic fatigue syndrome and migraines.It talks about relating to your family and friends, how to form supportive networks, and how to deal with your medical team.
14 Due to Rising Energy Costs, the Light at the End of the Tunnel Has Been Turned Off  is written by Karen Linamen.  She has a way of getting to the heart of the matter while making you laugh until you cry. I have read many of her books.  The title of this book definitely caught my eye.
Have you found any books that have been helpful for navigating a life with chronic illness.  I would love to hear your suggestions!
This post contains affiliate links.  To find out more you can visit my about page.
You can click on 14 Books for Living with Chronic Illness for a free download of the book list.