Have you heard of Jamberry nails? I first heard about them on a blog awhile back and was intrigued. I didn't really think much about it though. I have always had a hard time with nail polish staying on for more than twenty-four hours. It didn't matter what I tried. I noticed how pretty a friend of mine and her daughter's nails were. I commented on them. She told me they were Jamberry nails. She mentioned that they stay on for about two weeks. I knew I had to learn more. She invited me to a party and I was hooked. I decided to have my own Jamberry nail party so I could earn some free items.
I decided to not spend a lot of money on the food I wanted to serve. Also, I didn't want to have to make another trip to the grocery store! I was lucky enough to have most of the items already except for the pumpkin bread. I was going to make mine homemade, but was feeling stressed with my time and energy lacking. I ended up purchasing some pumpkin bread from Bob Evans the day before and kept it in the fridge. It is so good. I think it was even cheaper to buy than to make! I was proud of myself that I was able to let go of the idea that I had to have homemade.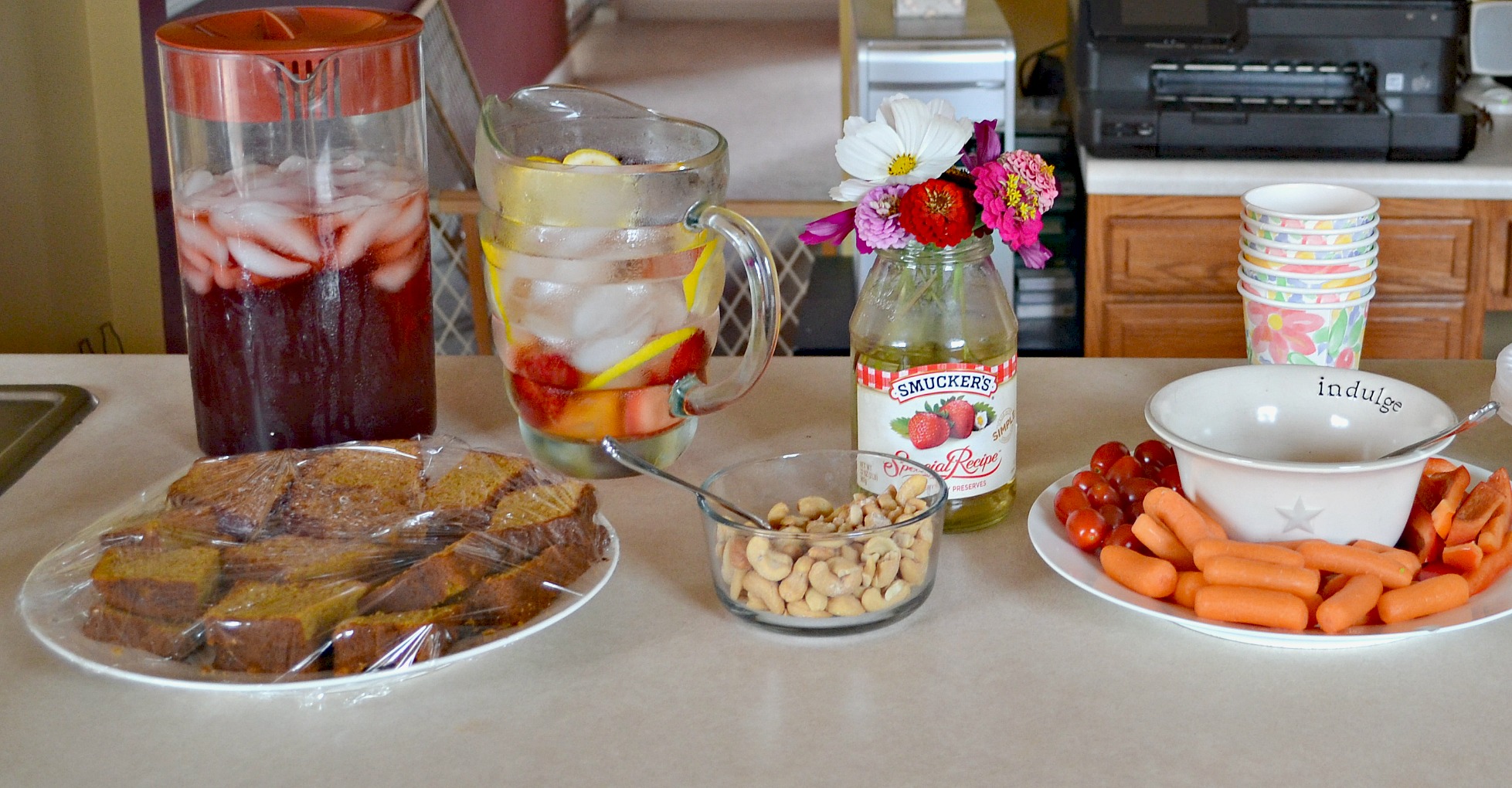 I also served cashews, tomatoes, carrots and red peppers with ranch dressing.  The drinks that I served were fruit infused water and homemade raspberry ice tea. I just happened to have some raspberry green tea bags. I love the smell of raspberry tea!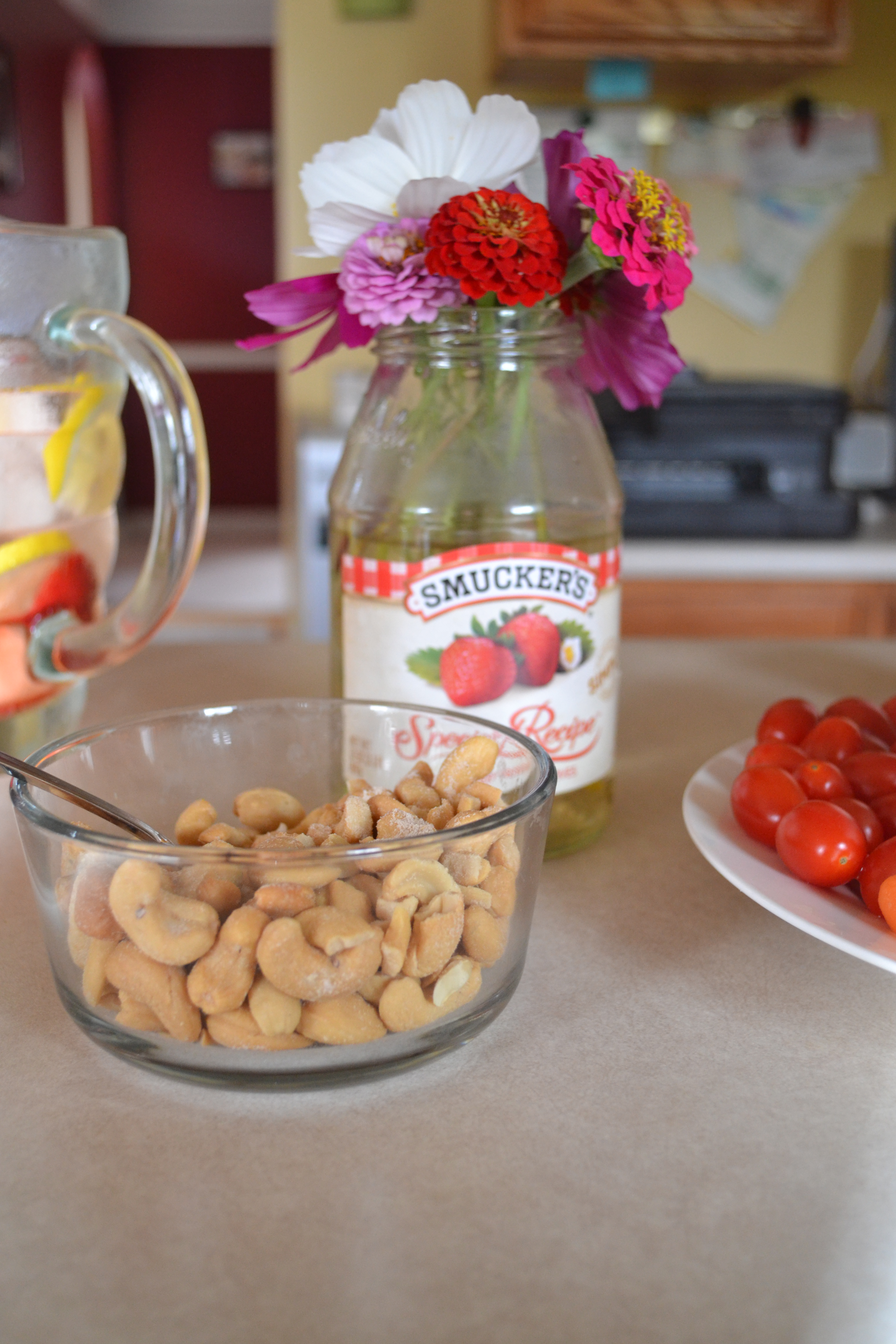 I picked these flowers out of my own garden. I love cosmos and zinnias! I used a Smucker's jelly jar for a vase. I just love the country look!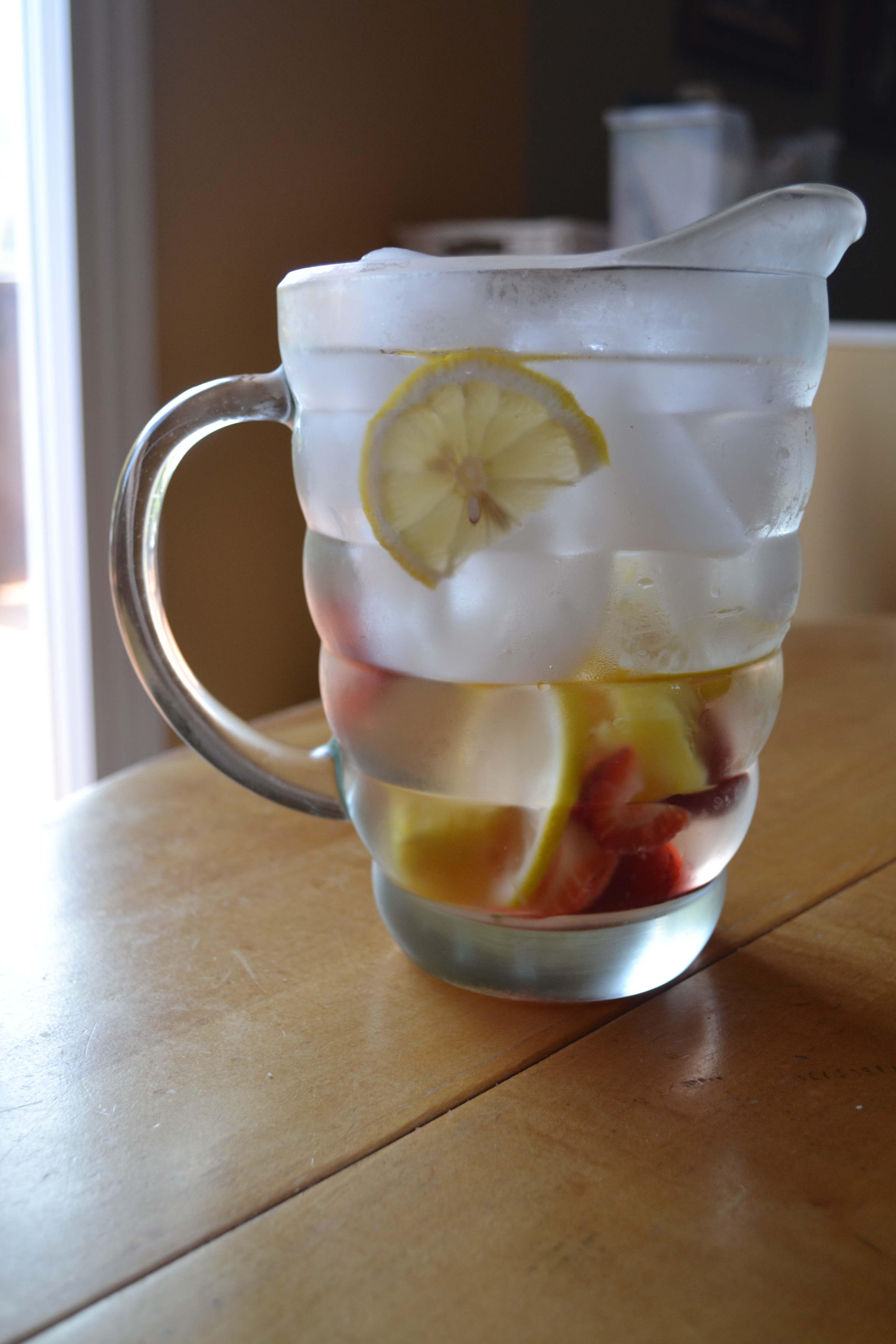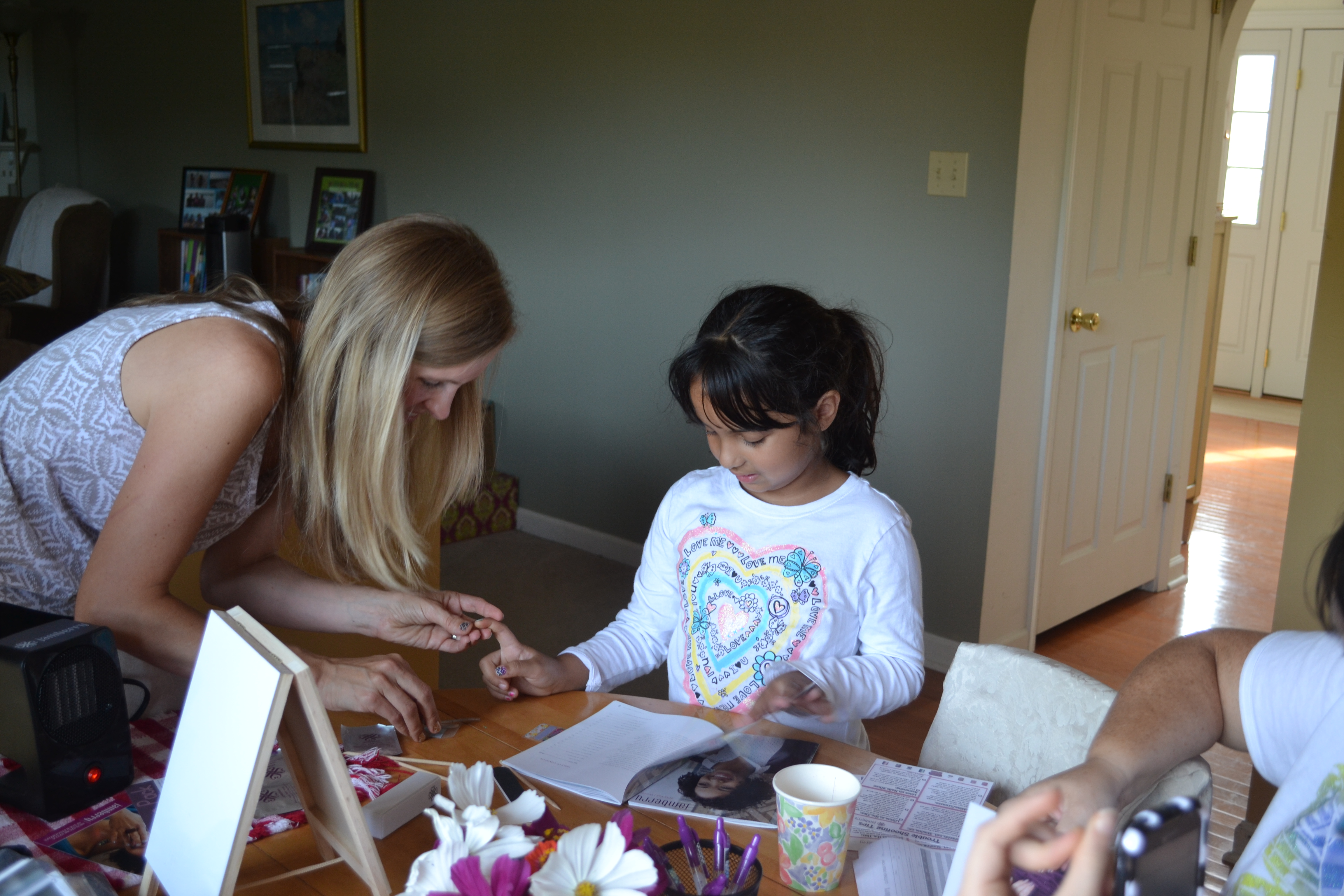 The Jamberry consultant is helping a young girl try on some samples.
 These are the nails she picked. She had so much fun!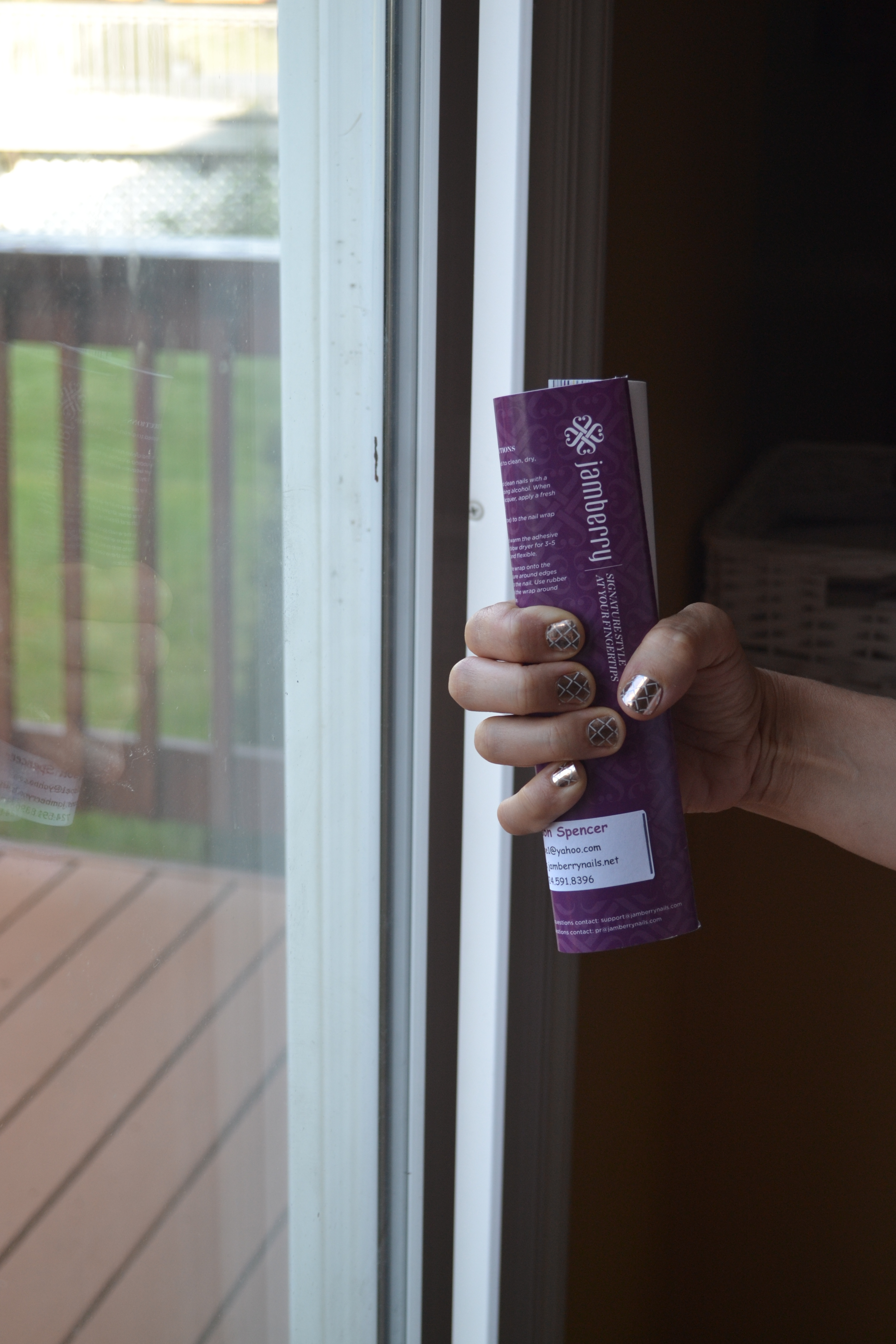 The Jamberry consultant is wearing the October hostess pattern. These patterns are only available if you have a party.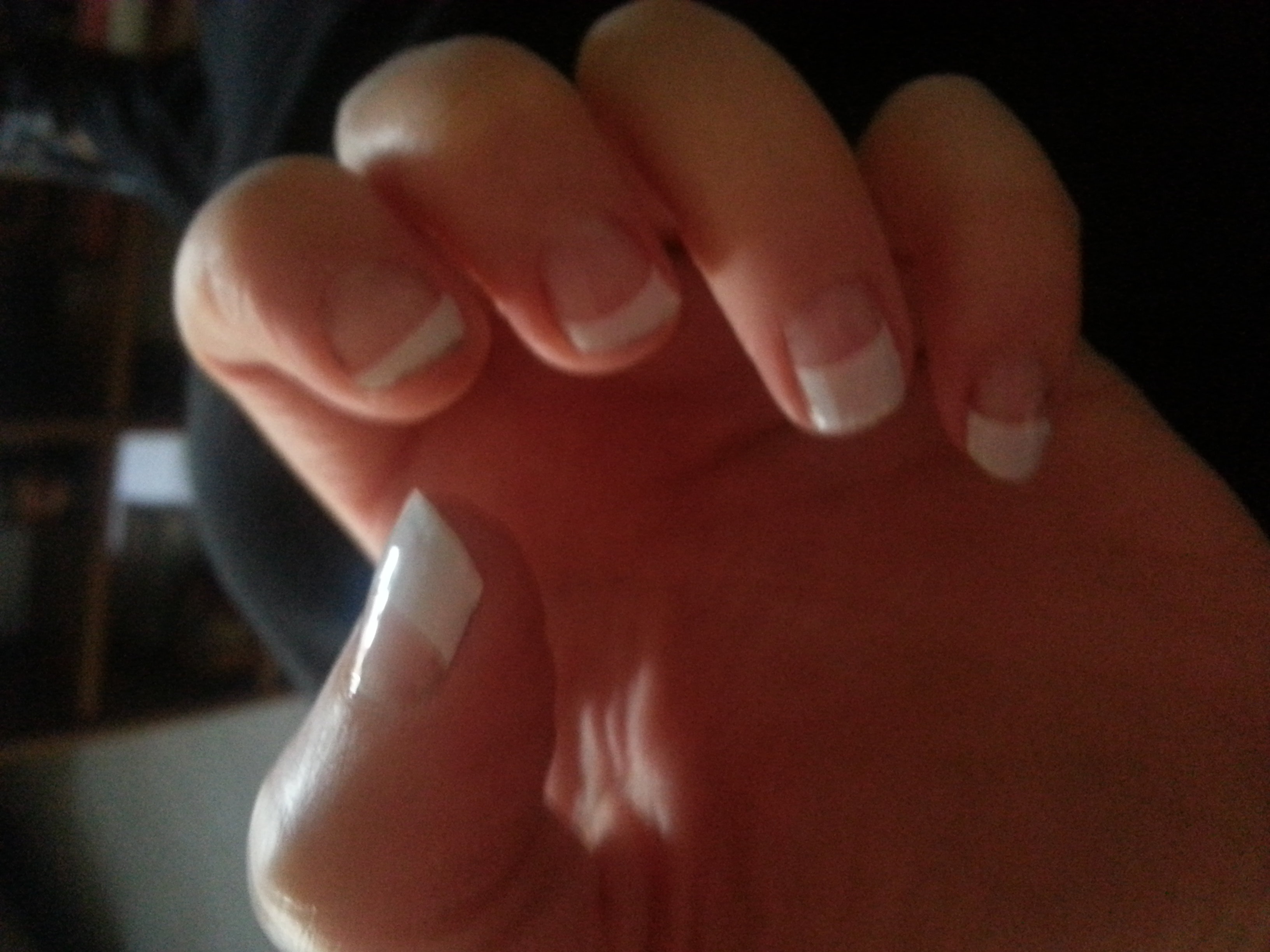 I am wearing short french tip nails here. I loved the fact that every time I looked down at my nails they looked so pretty. They usually look all jagged.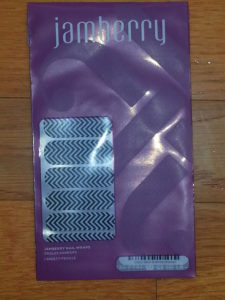 Would you like to win a set of Jamberry nails? These nails were given to me by my friend Allyson so I could share them with you! All opinions are my own. One set comes with enough nails for two manicures and two pedicures. One manicure lasts about two weeks and a pedicure lasts around five weeks!  The nails are black and white chevron. All you have to do to enter is follow me on your choice of social media. You will have one entry for every social media you follow. Let me know in the comments which one you followed. You will gain two entries if you sign up for my newsletter. If you would like to learn more about Jamberry go to my friend Allyson's site Allyson's Jamberry Nails. She would love to hear from you. Good luck! This giveaway ends on Monday October 27th at noon Eastern time.