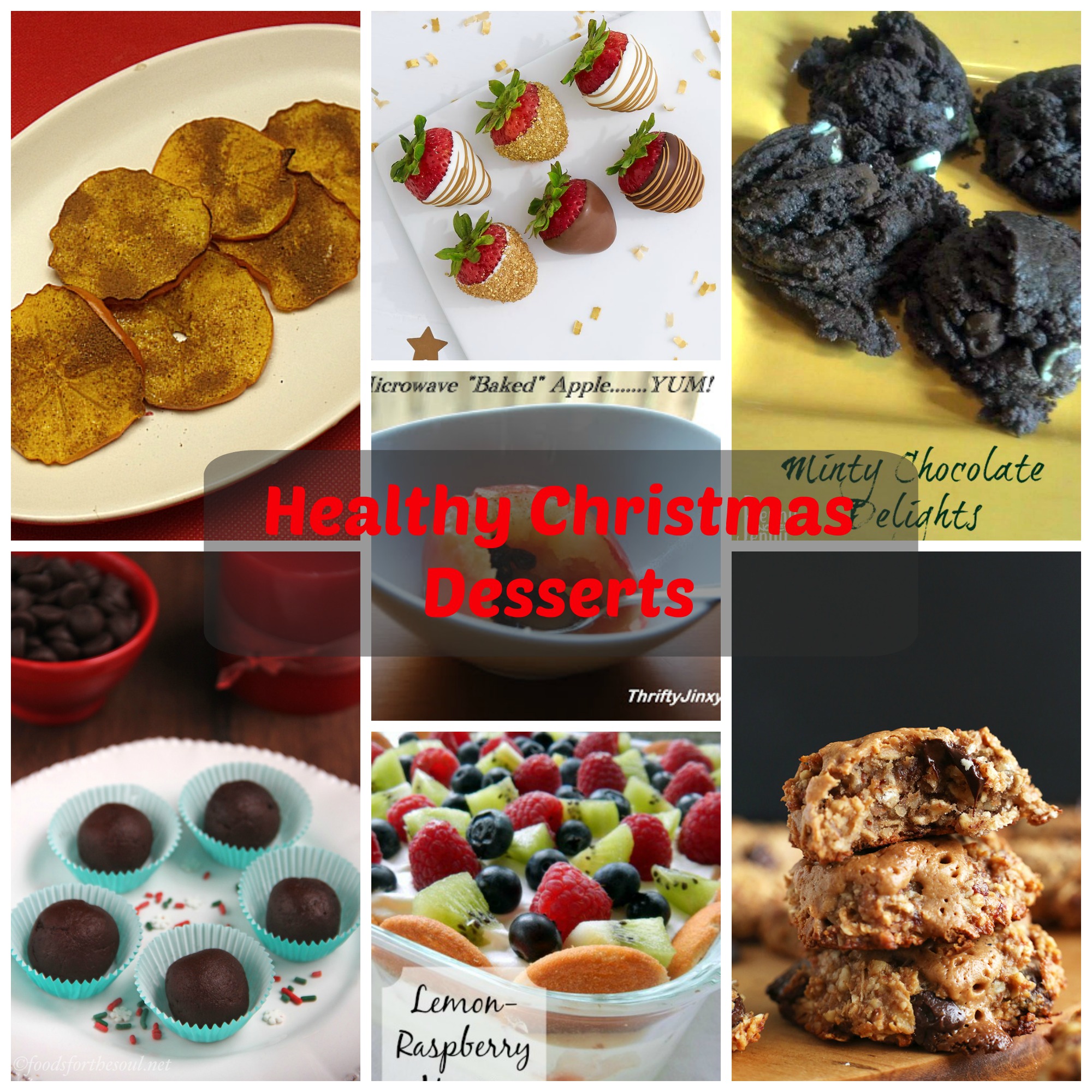 Desserts are a big part of Christmas celebrations. When you're trying to eat healthier it can be difficult to participate in these celebrations. Why not try some  healthy Christmas desserts? If you're having your own Christmas meal or party at home why don't you consider some healthier choices? I was excited when I found these healthier versions of popular desserts. Some of them are simple like fruit, but delicious just the same. Here are ten that I thought sounded yummy!
1. Chocolate covered strawberries are something that we have all eaten or made. Why not order some from Shari'sBerries with pretty gold sprinkles or red and green jimmies. You could also make your own if your so inclined.
2.I love truffles at Christmas time. These Dark Chocolate Peppermint Truffles from Amy's Healthy Baking blog look delicious and there are only 27 calories each! I can't wait to try making them!
3.I love a good baked apple. I love it even more when it can be made quickly in the microwave! These Microwaved Baked Apples from Thrifty Jinxy look so good!
4.I love any thing minty. I was excited when I came across these Minty Chocolate Delights Weight Watcher Cookie from Penny Pincher Jenny. Thanks Jenny! These look delicious!
5.Here is a lighter dessert that you may not associate with Christmas, but I think it's a nice break from the traditional desserts.I love all the fruit! Thank you Mum's the Word for sharing Lemon- Raspberry Mousse !
6.I had to include Double Peanut Butter Chocolate Chip Cookies! I love peanut butter and chocolate together! These are from the Minimalist Baker and they are vegan!
7.I'll have to admit I have never had a persimmon, but I game for trying new fruits that are full of great nutrition. I am going to have to try Roasted Persimmons with Cinnamon from Mama Likes to Cook. I love anything with cinnamon!
8.This Frozen Yogurt Bark looked scrumptious and I don't even like yogurt! I thought it looked Christmasy too with the red berries. I think my kids would like this.
9.I couldn't have a Christmas dessert roundup without Sugar cookies. But guess what? These cookies don't include sugar!  They contain applesauce. Almond Flour Cut Out "Sugar" Cookies  are also gluten free!
10.Last but not least I had to include some fudge. Fudge is usually not on a healthy list, but this fudge is made with Truvia and fat free half and half. Thanks Tatertots and Jello for the recipe Low Carb and Peanut Butter Fudge.
I hope you pin these amazing recipes to keep for years to come. I can't wait to try them. What healthy recipes do you like to make at Christmastime?