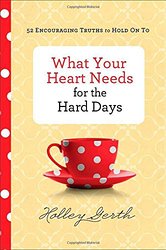 Have I ever mentioned how much I love Holley Gerth? I don't even remember how I first found out about her books. It might of been through the company Day Spring. I have written a book review for one of her books,  Hope for Difficult Times(You're Going to be Okay). I find her books very uplifting and comforting. Whenever I'm going through a tough time I feel like I am listening to a close friend through he pages of her book.
What Your Heart Needs for the Hard Days by Holley Gerth is a devotional book and very easy to read. Each devotion is about three pages long. They are written about different kinds of hard experiences you may be facing, such as feeling weary or discouraged. I know we have all been there. Sometimes we just need a little pick me up to get us through the day, and that is exactly what Holley Gerth delivers.
I love what she has at the end of each devotion. She has a place to write what you want to say to God, and what you hear God saying to you. Some of the titles are God Enjoys your Joys and God Will Bear Your Burdens. The first one really caught my attention. God enjoys my joy? I guess that's something I usually don't think about on a daily basis. Holley Gerth states "Yet through the years I've come to understand that my joy brings my heavenly Father joy too." She describes it like a mother delighting in her child. Holley explains that doesn't mean we get whatever we want even when we want something good. I often thought about this when it came to the death of my first child. Why wouldn't God want to heal my daughter? That is a good thing. She reminds us that we live in a fallen world. Right now we won't know why certain things don't happen. Life can have a lot of heartache. But God will not leave things like this forever and I'm so glad for that! There are still many things that bring us joy in this life like a beautiful sunset, the birth of a child, or enjoying the afternoon with a good friend.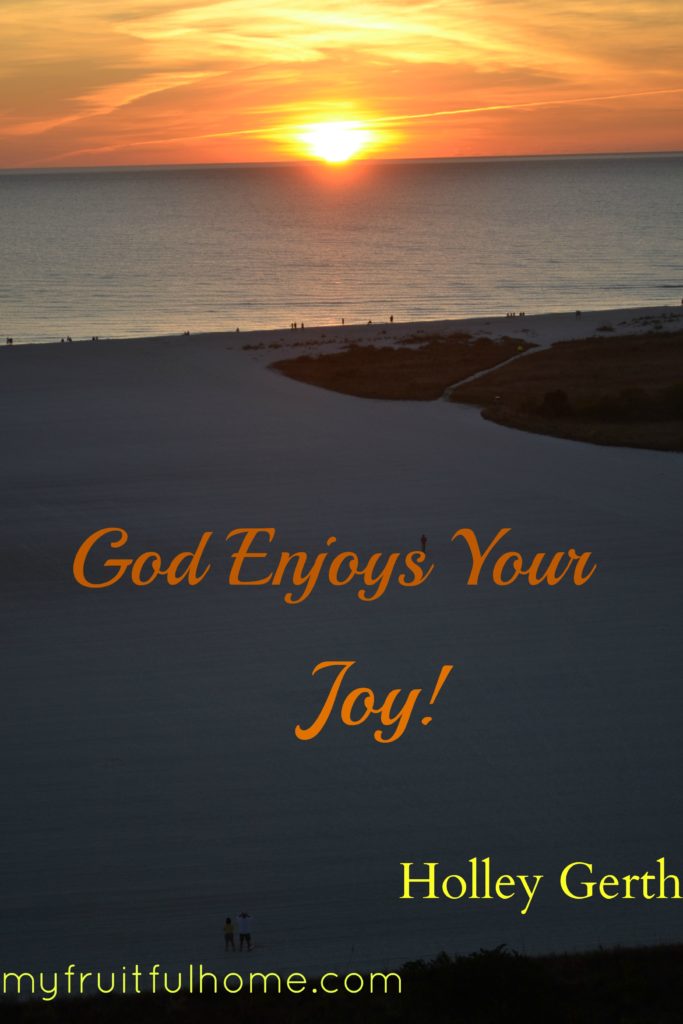 I really  liked the second devotion I mentioned. It's sometimes so hard to admit that we need help and that we need someone to lean on during difficult times. Dealing with a chronic illness forces you to lean on other people at times. It is never easy asking someone for help. I wrote about that in my post How to Ask friends for Support in Tough Times. Even though I have had a bit of practice asking for help I still don't feel comfortable doing it. I like how Holley says that letting them help you is giving them a chance to love you. God doesn't expect us to do life by ourselves. He wants to help us with our burdens and He often does that through other people. God wants us to rely on Him. We don't have to be strong all the time. I can still use practice at letting others help me. I also want to help others in return when I'm able.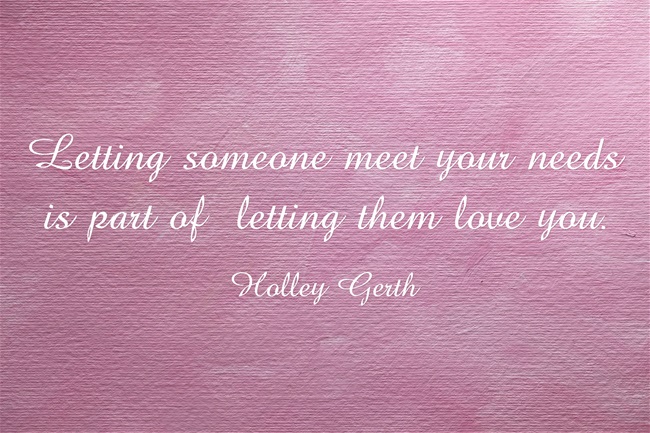 I
I highly recommend this book. If you would like to purchase it you may do so through my affiliate link by clicking on the book at the top of this post. You will have the support and encouragement of a friend for 52 days! I am here for you too. For more info on my disclosure policy you may go to my about page.