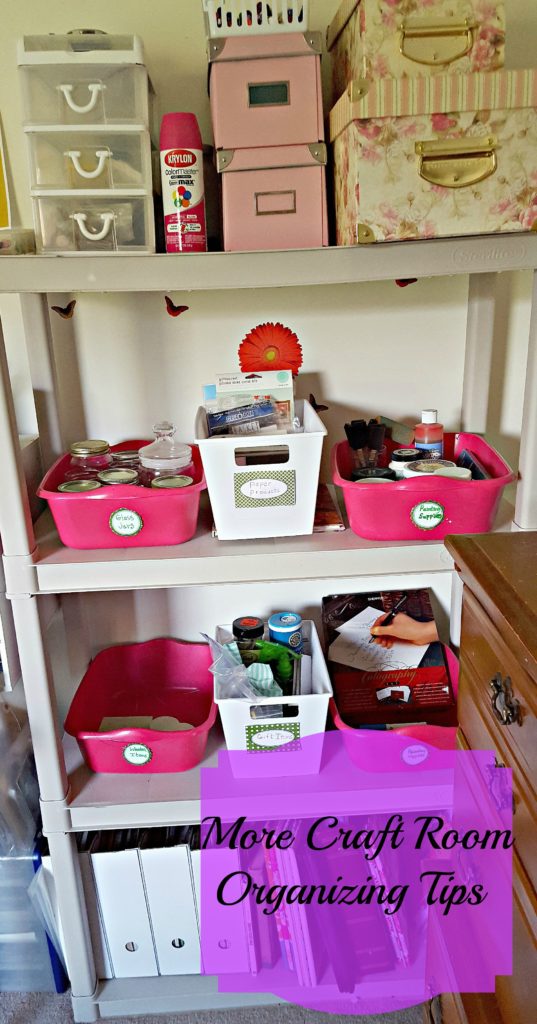 Do you have a room or closet dedicated to crafting. Do you need some craft room organizing tips to help you make the best of your craft space? I consider it a luxury to have my own little space to create. My craft room used to be the guest room. We bought a small pull out bed that we can put in there when we have a guest which is usually only a few times a year. I have come up with some great craft room organizing tips that I have found helpful. I hope you find them helpful too.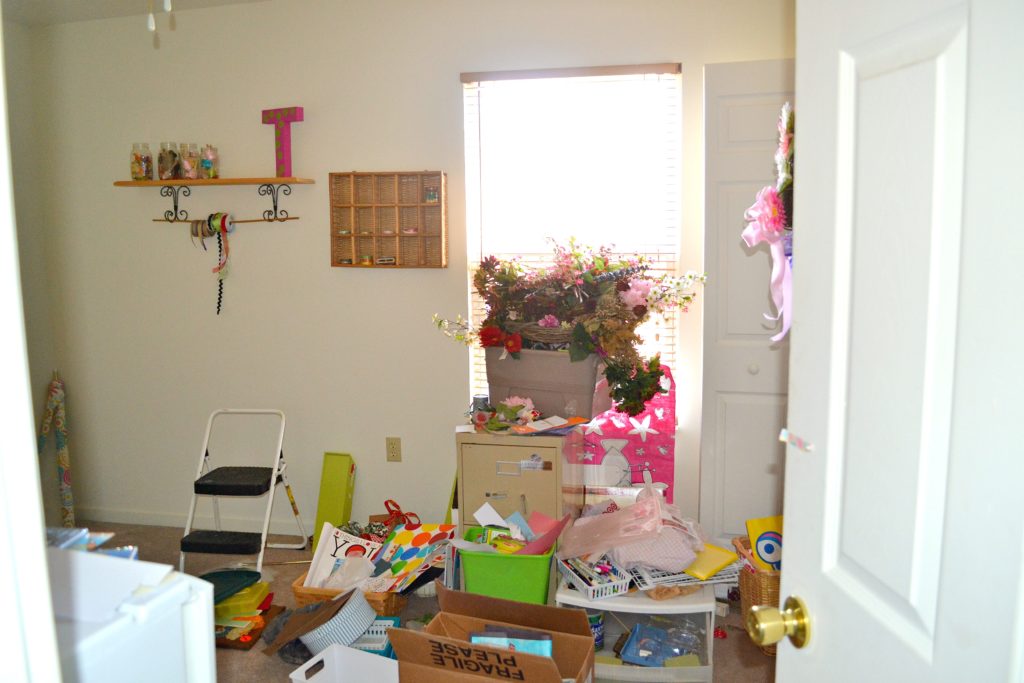 This is what my craft room looked like as I was weeding through all of my stuff! I started sorting through everything by like  items. I put all scrapbooking and paper items in one pile, jewelry making items, gift making items, gift wrapping items, Christmas items, etc.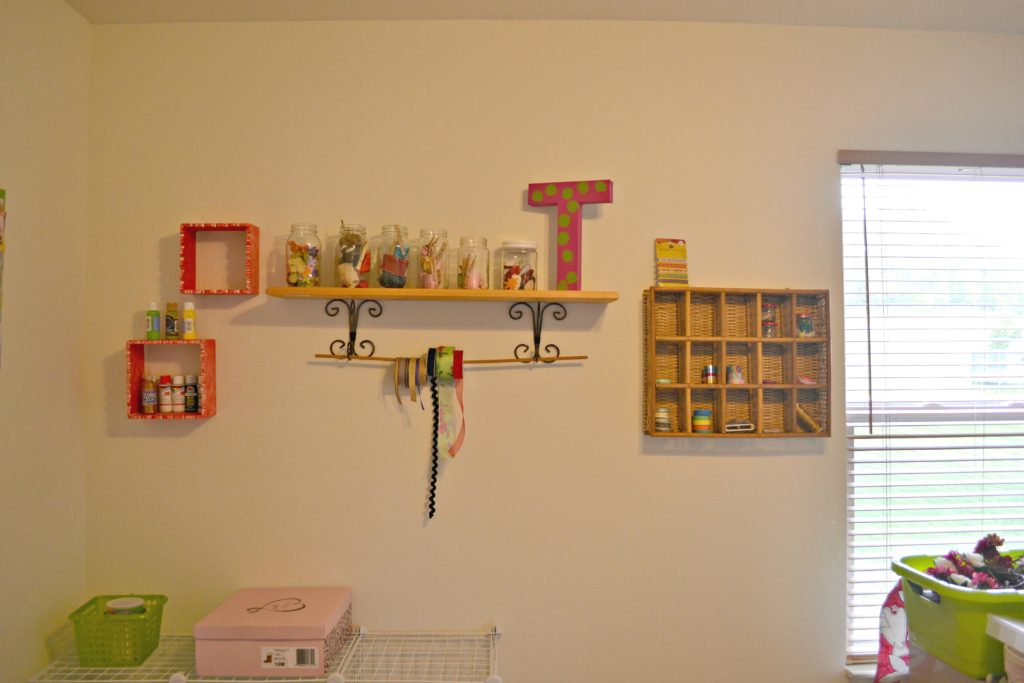 My dad helped me put up this shelf from JoAnn Fabrics. I liked the design and the fact that I could hang stuff from the bottom. I took an old shade stick and thread it through the bottom to hang my ribbon. It is bowing a bit in the middle, so I think I will eventually try to find a replacement. I used mason jars to put ribbon in. They are wound around clothespins. You can see how to do it here. The pink shelves to the left I found at Goodwill. I thought it would be perfect for little items like acrylic paint. The shadow box to the right was given to me by my grandmother many years ago. I decided to repurpose it for my washi tape and other small items.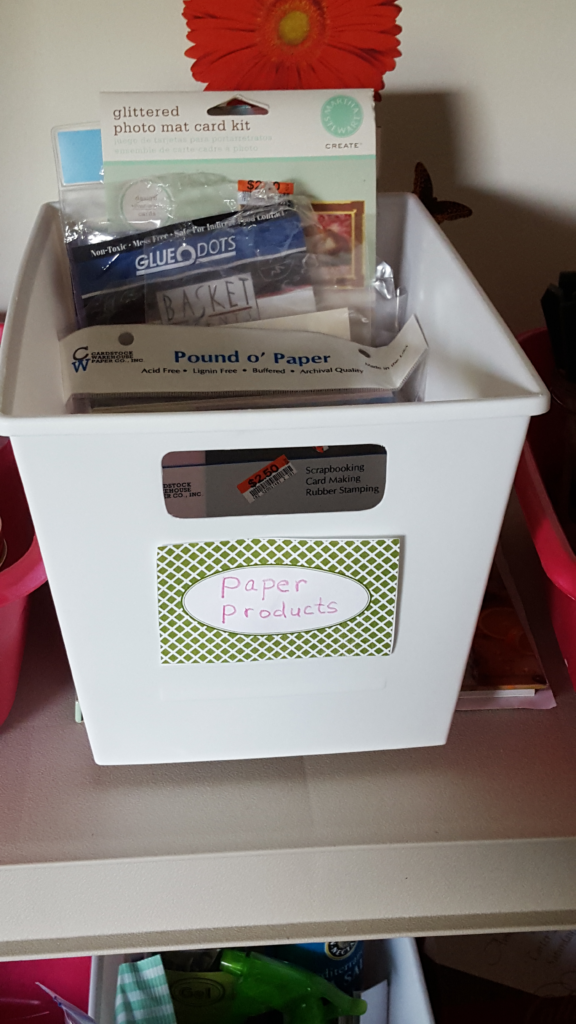 I found these cute locker bins at The Dollar Tree which I just love! I have found that The Dollar Tree is a great and economical place to find organizing products. This one stores paper products that are not for scrapbooking. I printed the labels from Better Homes and Gardens.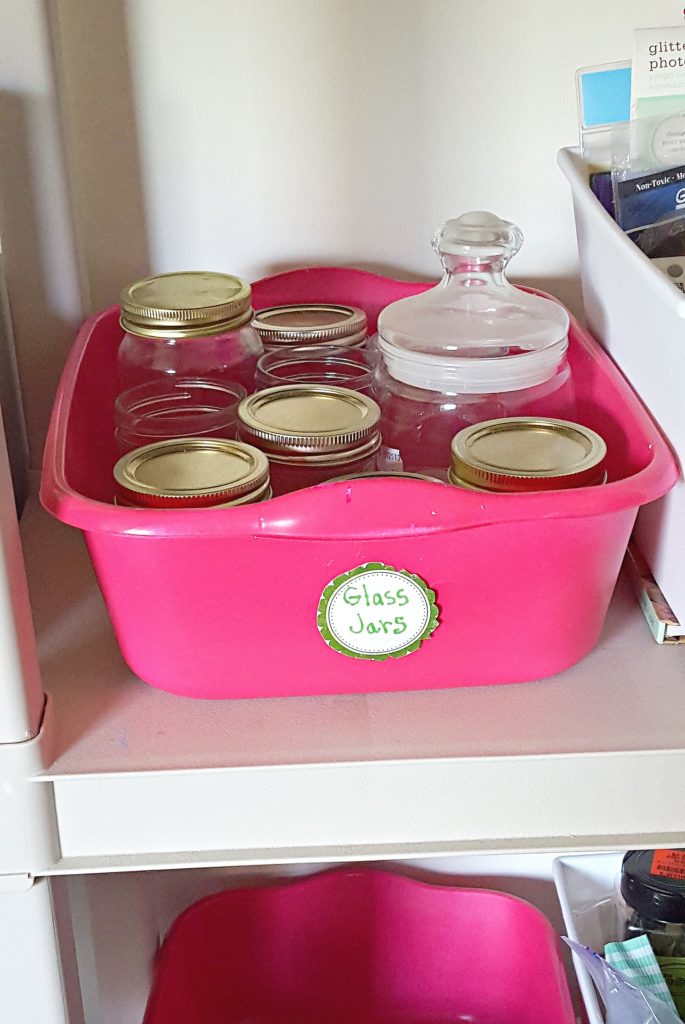 I also bought these shallow dish tubs from The Dollar Tree. They were white. I wanted to add a pop of color, so I decided to spray paint them hot pink. Believe it or not this was my first time working with spray paint. I need a little more practice making even sweeps. You can see a few tiny white specks where the tub shows through.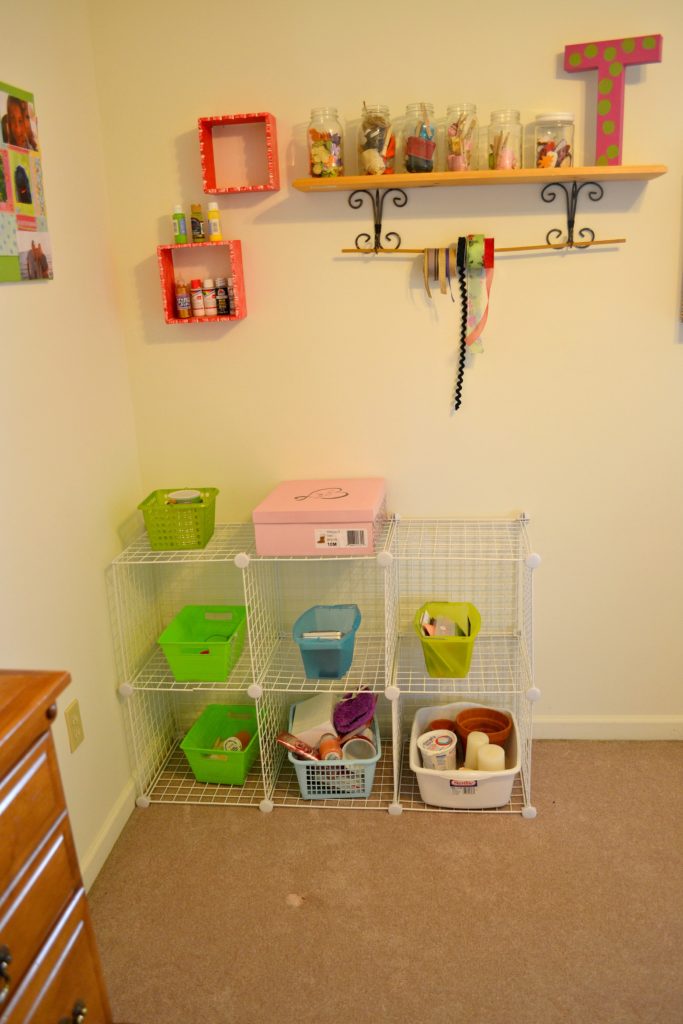 We bought these wire shelves when my kids were little to store tubs of toys. They are now teenagers! I found them in my daughters closet not being used for anything. I thought they would work for the rest of my craft supplies. I bought some more containers from The Dollar Store. The green locker bins and the smaller colored containers are from there. You have to grab things at The Dollar Tree when you see them because you never know if they will still be there. I learned this the hard way. I just bought a few to see how they would work and when I came back they had different colors. I'm hoping they will come back! I still have some tweaking to do.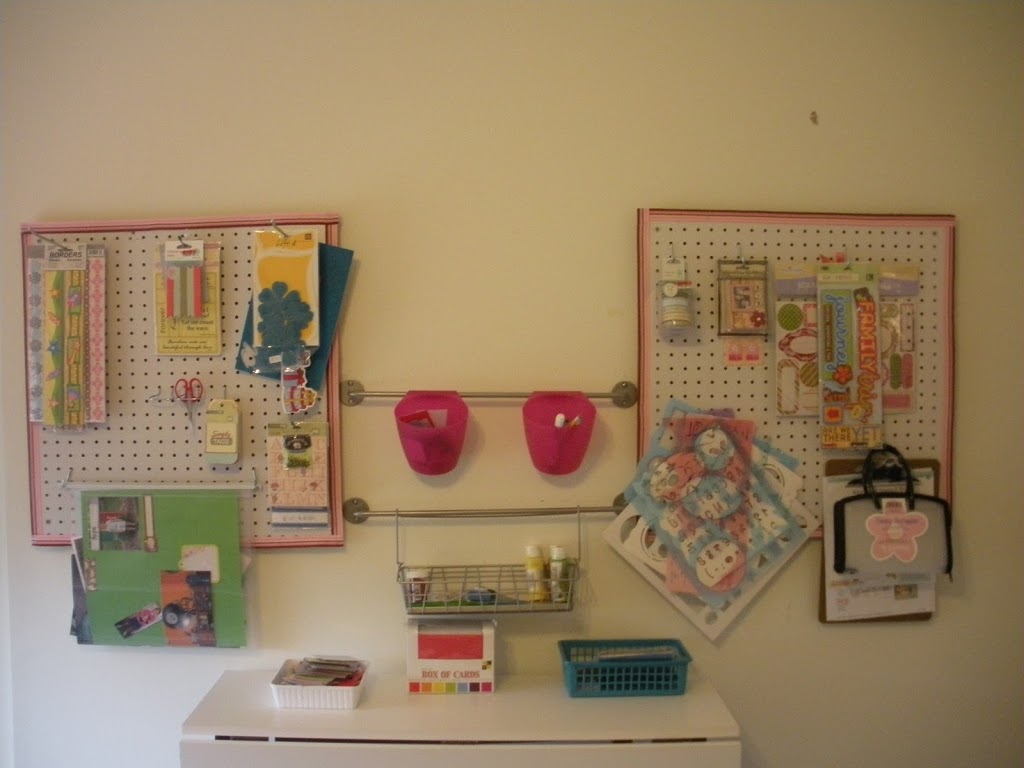 My dad helped me put up this pegboard. I decided to trim it with some pretty striped ribbon. I used a hot glue gun to adhere it. The organizing items in between the pegboards are from Ikea. I just love their organizing products! The top rod actually comes with four pink buckets, but I had them in another spot at the time of this picture. The white table I got from Jo Ann Fabrics many years ago. My husband surprised me with it. It's actually a sewing table, but works great for crafts too. The two sides pull out to make a very large table.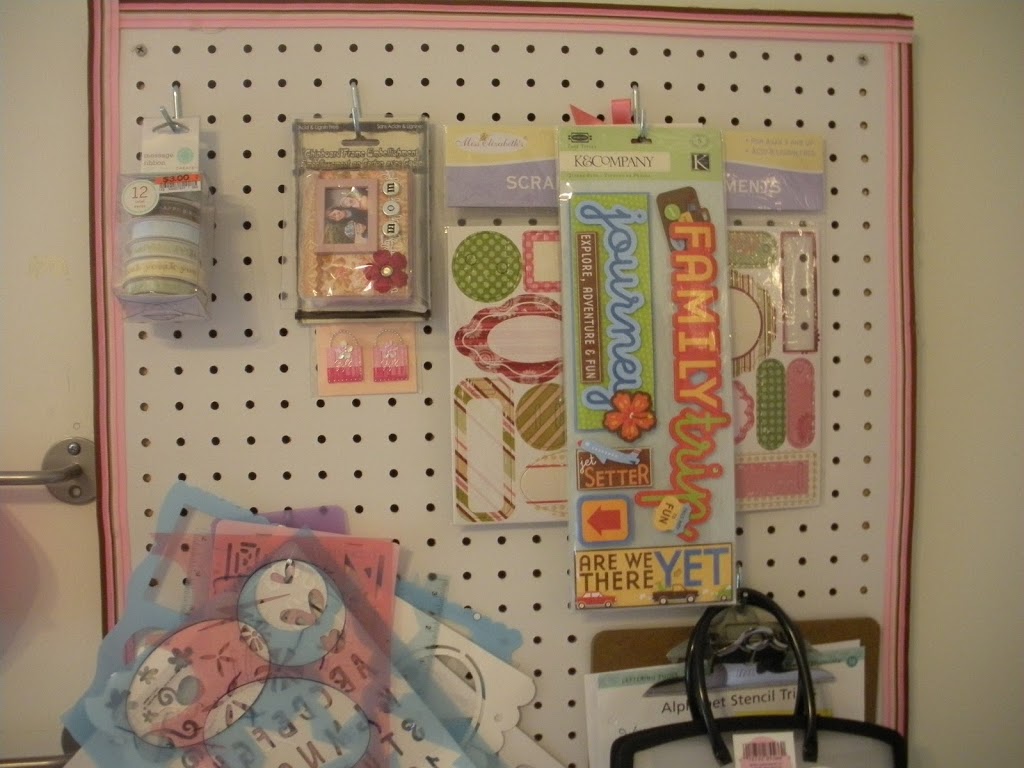 Here are some of my scrapbooking items that I have on display. I love having them accessible!
Do you have any craft room organizing tips? I'd love to here them. check back for improvements that I will make in the new year.