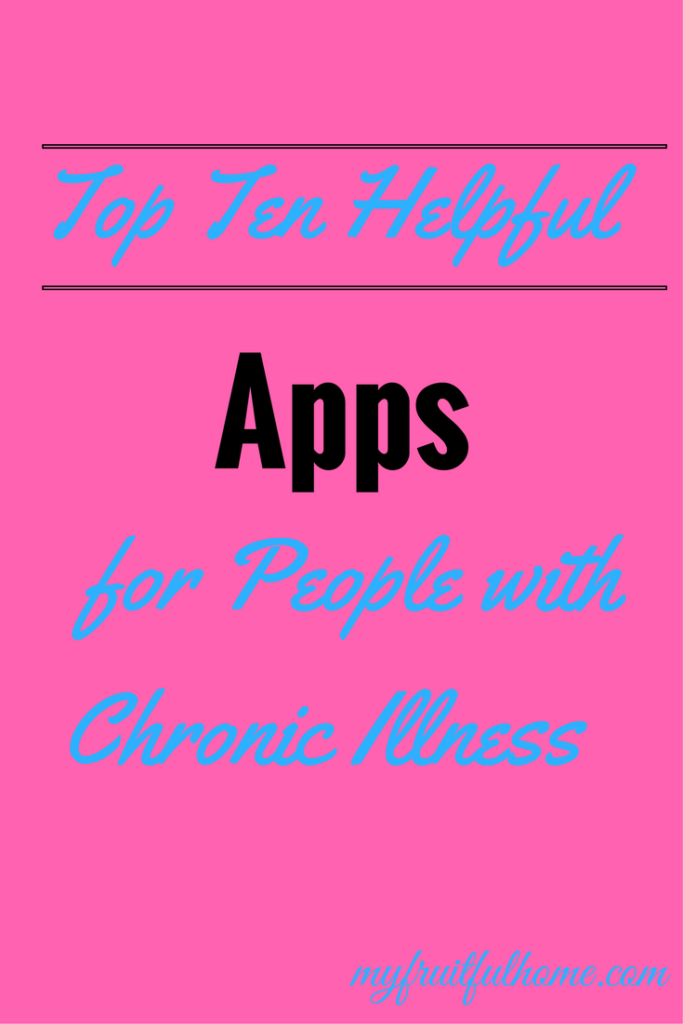 Managing day to day life can be tough when living with an illness. There's' grocery shopping, managing our health and the health of loved ones, and trying to save money. I've come up with ten apps for people living with chronic illness. All of them have free versions. Even if you don't deal with an illness you may find these apps helpful for a busy life. I'm all for making things easier!
1.Big  Oven– This is a great app for people trying to come up with ideas for meals. I know I have difficulty coming up with meals to make for my family. Big Oven is a great app for meal ideas, recipes, making grocery lists, and using up leftovers. I especially like the feature of helping with leftovers. It's so easy for them to get pushed back to the back of the fridge. This wastes food and money!
2.Berry Cart– The Berry Cart app is an app for finding deals on healthy, organic, gluten free or GMO free foods. . I know it can be hard to find coupons for these items. I want to eat healthier, but sometimes price can prevent me from doing this. This app gives you important facts on new foods you might like to try. When you purchase an item on the Berry Cart list you just snap a picture and earn money!
3.Flipp– I just recently learned about Flipp. It's an app that has every store flyer you can imagine. It's nice to have them all at your fingertips instead of having a big pile of adds that clutter up your home! You can make your grocery list and Flipp will show you where it's on sale. You can also tap an item in a circular and refer to it when shopping. I am still learning all this app does.
4.Key Ingredient– Key Ingredient is a website and app for finding recipes using ingredients you already have on hand. There are free and paid options. The free option includes prep and cooking time, nutritional information, and serving size. You can create cookbooks, sync recipes with a mobile app, and create a shopping list for the recipes you have chosen. Prime membership costs 19.99 a year. This includes turning handwritten recipes into digital ones, and discounts on things related to cooking.
5.Card Star– Do you get frustrated when you're shopping and can't find your loyalty card? I ended up having so many loyalty cards on my key ring it becomes a jumbled mess! Card Star solves this problem. You can store all of your loyalty cards on one app. You can also access coupons and deals. I'm all for anything that makes my life a little bit easier. I know shopping can wear us  out as it is.
6.Go Meals– This is an app primarily for people with diabetes who want to make healthy choices at home and on the go.  I don't have diabetes, but I still found many helpful features to help me with staying as active as possible, tracking my food, and finding restaurants with healthy meal choices. I really liked the restaurant information. It will give you directions to the restaurant and you can even call from the app to make a reservation or find out the wait time! Go here to find out more.
7.About One- About one is a great app for anyone managing a family, has loved ones in the military, or for caregivers trying to manage a loved ones, or their own health. You can share information with other family members. There are free and paid options.
8.iheadache– Do you get frequent headaches? Is it hard for you to keep track of when and how long they last? The iheadache app helps you keep track of your triggers, medications tried, and headache type. It gives you detailed reports that make it easier to share information with your doctor. I have recently been getting frequent headaches. My doctor will ask me how many days and their intensity and sometimes it's hard for me to remember. This app helps me with that.
9.Breath2Relax– This app can be found for Android and iTunes. It helps you learn how to do diaphragmatic breathing also known as belly breathing. Many of us breathe  with our chest instead of our belly, which is shallow breathing. This just makes stress symptoms worse. You can select breath duration and number of cycles. There is also an  option for music. I have noticed that in times of tension a few minutes of deep breathing can make a difference. I just need to be more consistent.
10.ProHealth– ProHealth is available on Android and on iTunes. It's an app provided by the website ProHealth. The website carries supplements for Fibromyalgia, Chronic Fatigue Syndrome, and Lyme disease. The app helps you keep track of all the medicines you take. Since I take medicines at different times of the day I set up alarms to go off. The app tells me which meds to take. I can click on taken, snooze, or cancel. You can keep sleep records, keep track of your pain, mood and fatigue. You can also keep a record of all the meds and supplements you are taking, the dosage and the day you took it last.
There is a checklist to keep track of activities that your fatigue and pain have prevented you from achieving. Sometimes there are certain triggers or factors that contribute to our symptoms like stress, lack of sleep, etc. This app lets you check off these things. There are many more options that you can check out when you visit the link. You might wonder why you would want to record so much information. I have found that it makes it much easier to share with my doctor how I have been feeling and exactly where my problem areas are on any given day. It takes your information and puts it in a graph.
I hope you find these apps helpful for your daily life. Do you have success using apps to manage your life?