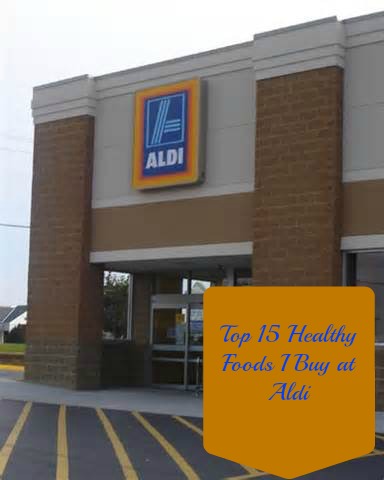 How many of you shop at Aldi? I know there are people who think since Aldi is less expensive then it must be cheap quality. That is not necessarily true. I shop at Aldi frequently and have found my top 15 healthy foods I buy at Aldi. They are always coming out with new and improved products, including gluten free and organic
I used to have to drive quite a ways to the nearest Aldi. A year ago they built one in my town. I was so excited! Here are my top 15 healthy foods I buy at Aldi.
Organic Quinoa- Quinoa is my new go to food. It can be on the expensive side, but i find it to be cheaper at Aldi. I use it as a filler in meatloaf, stuffed peppers, and enchilada Quinoa Casserole. It's a good substitute for rice and has a lot more protein.
Organic Salsa- I do like salsa, but only the mild kind. I love dipping tortilla chips and pretzels in the salsa. I also like to use it for cooking.
Mangos- I absolutely love mangos! I love eating them plain and in smoothies. I usually only buy them when they're in season. They are about 69 cents a piece.
Red, Yellow,and Orange Peppers- I love to add peppers to my smoothies and stir fry. They can be so pricey. At Aldi they are reasonable.
Zucchini- They do not have organic zucchini at my store. I wish they did, but you can't beat the price. My family eats a lot of zucchini.
Organic Apples- Since my family and I usually eat the skin on the apple I try to buy organic whenever possible.
Canned Peaches- My kids love peaches. When they are not in season we eat canned. I've noticed that canned fruit has gone up a bit in price. At my Aldi store they only cost 89 cents a can!
Whole Wheat thin Spaghetti- My family has been eating whole wheat pasta for a long time. I was glad to see that Aldi carried whole wheat pasta. I just wish that all their pasta had a whole wheat choice.
Steel Cut Oats- I have been trying to eat steel cut oats instead of regular oatmeal. The only real nutritional difference is that steel cut oats are lower on the glycemic index.
Nuts- Nuts can be so expensive! I am so glad I can purchase them from Aldi. I have bought the almonds and cashews, and I find them to be cheaper than even Walmart. They are a great source of protein.
Whole Wheat Waffles- I have bought whole wheat waffles in other stores and the first ingredient is not whole wheat. I was pleasantly surprised when I found these waffles at Aldi where the first ingredient is whole wheat.
Fruit and Vegetable Juice- This is what i use for the base of my smoothies. Aldi brand is very close to V-8 brand.
Frozen Fruit- Again I use this to make smoothies. It c an be so expensive, but I can get it cheaper at Aldi. They have organic and non organic options.
Organic Spinach- I like to put these in my smoothies and when I saute vegetables I throw in a handful of spinach. Spinach is one of those food items that you'll want to buy organic if possible. Aldi makes it affordable.
Organic Grass Fed Ground Beef – This is one item that I have not bought at Aldi because our store doesn't carry it yet. When they do, I'll be sure to try it.
I hope my top fifteen healthy things I buy at Aldi will be helpful in choosing the best food for your money. What do you like to shop for at Aldi?