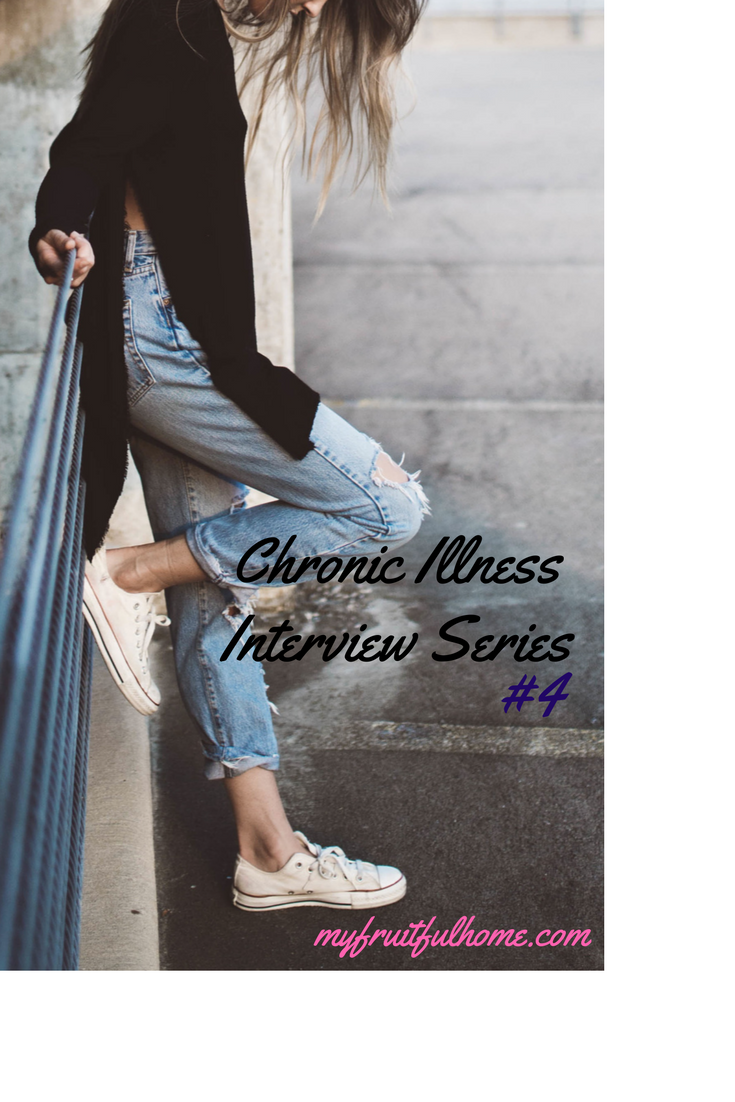 I started a chronic illness interview series a little over a year ago. I am so happy to introduce Tanya from Mom's Small Victories. We "met" a few years ago on the internet. I don't even remember exactly how. I find it ironic that we both have the same name, have a chronic illness, and blog! I got the opportunity to ask her a few questions about her life, blog, and chronic illness. I'm sure you will be able to take away some encouragement!
My Fruitful Home: What is the name of your illness and how long have you had it?
Tanya: I have Rheumatoid Arthritis, an autoimmune disorder that attacks the joints and organs in my body. Symptoms started appearing in November 2001 after the birth of my first son and I was diagnosed in April 2002.
My Fruitful Home: That must of been tough since you were a new mother. Do you find it difficult being a mom and dealing with a chronic illness?
Tanya: Yes! Motherhood is hard in and of itself as we all know but having a chronic illness adds another layer of difficulty both physically and emotionally for me. I've had RA since my oldest son was 1 month old and my hands and feet have suffered permanent damage. Although the physical damage is done and my RA is currently well controlled by medicine, I still have to deal with the frustrations of the million little ways RA interferes in my life everyday whether others can see it or not. Blogging has helped me deal positively with my RA and focus on the small victories in my life.
My Fruitful Home: I know chronic illness can effect almost every aspect of our lives. It's hard when certain parts of our illness are invisible to others. What is one of the things that helps you manage your illness?
Tanya: I'm not normally a rule breaker, but I'm going to have to list a couple things that help me, I hope you don't mind.
My family is amazingly supportive and I could not manage my illness as well without them. My 3 sons and husband are my superheroes. They use their super strength to open stubborn jars, their super speed to run up and down the stairs for things I need and their super hugs to comfort me when I'm feeling blue or hurt.
My planner and wellness journal are my brain on paper. Whether it's the fact that I juggle 3 kids, a home and a blog or thatRA and its medicines cause it, "brain fog"is very real for me. I have difficulty concentrating and remembering things so I have to write it all down.  I bullet journal in my planner and keep track of the factors that impact my RA (my pain levels, weather, moods, hormones, food and # of steps).  It's helped me figure out what makes my RA flare.
My slow cooker saves us so many times from going out to eat which costs a small fortune for a family of 5. Especially on days I receive my Remicade infusion to treat my RA, I am usually in too much pain to cook and am too fuzzy headed and sleepy from the Benadryl I have to take with it. I love setting the slow cooker before my appointment and having a delicious meal waiting after a tough day. I use it a couple times a week, like on laundry and grocery days too because I know by the end of the day my feet will be hurting and I won't want to stand to make dinner.
My Fruitful Home: That's great that you have such a supportive family. That makes all the difference I think. I love the idea of keeping a bullet journal. I have never done one. I also love my slow cooker. I tend to have more energy in the morning, by evening I'm pretty well spent. It's nice to know your meal is already prepared. When did you start your blog?
Tanya: I started my free blog in January 2011 and moved to my own site in April 2012.
My Fruitful Home: How do you manage your blog, family, and illness?
Tanya: As I said above, my planner is my cornerstone for juggling my blog, family, and illness? Everything I WANT to do is written in my planner. I do what has to be done each day for my family, and the rest depends on how my body feels. On bad RA days, I know I can't push myself and rest more. On good RA days I pace myself between activities on and off my feet so that I can get through the evenings with the kids' activities.
My Fruitful Home: I can't live without my planner either. I use my highlighter to order my priorities. My kids are now teenagers. One is in college and the other is a junior in high school. I do remember those days when my kids were younger. I wonder how I did it sometimes. I guess you just get through it. I was blessed to have help too once in a while. Do you have a favorite song, quote,or scripture that helps you cope?
Tanya: Hmmm, I'm horrible about remembering quotes or song names. I normally turn to reading to help me cope. Getting lost in a book helps me turn off my overactive, scatterbrained mind and escape reality.
My Fruitful Home: I love getting lost in a good book! I'd much rather read than watch T.V. How do your children deal with your illness?
Tanya: Talking about my illness usually gets me emotional but now this question will just make me cry. Of all the hardships RA has caused, it has taught my kids valuable lessons in compassion, empathy and gratitude. They've been disappointed but understanding when my RA changes our plans. They know and accept that I try my best for them every day. They slow down the games of "Tickle Monster" just so I can catch them. They tell me to stop before I hurt myself. They get angry at the Enbrel and Humira commercials on TV for misrepresenting what real RA patients can do. They help me with chores even though as my middle son says he's "whining on the inside".  They bring me stuffed animals and give me extra-long hugs when they know I need it whether I say it or not. They cry with me and tell me one day they will find a cure for RA. I hope so, baby, I hope so.
My Fruitful Home: It sounds like you have some pretty special boys! I know it can be so hard to think about the things we missed out on doing with our kids. I think the characteristics they develop,  compassion, empathy, and gratitude, as you said, far outweigh the things they missed. Those drug commercials drive me crazy too They make it sound like all you have to do is take this pill and your life will pretty much go back to normal. I have thoroughly enjoyed getting to know you better. Thanks so much to agreeing to be interviewed! Please go and check out Tanya's site Mom's Small Victories.
I hope you will check out the other chronic illness interviews I have done as well.