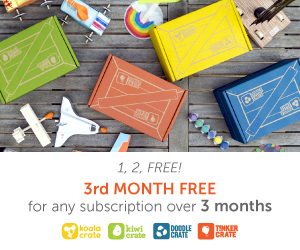 Have you ever heard of Kiwi Crate? It is a mail subscription for kids ages two to sixteen. They have amazing learning kits for different interests. For a limited time only there is a sale on Kiwi Crate kits. I remember when I was in grade school my dad bought a science experiment subscription for me. I always looked forward to having something in the mail just for me. The experiments were something my dad and I could do together. Some of the topics Kiwi Crate has are Play and Learn, Science Art, and More, Art and Design, and Science and Engineering. Some of the titles are Fun with Flight and Glowing Animals. There are more than 200 hands on projects.
Kiwi Crate allows you to pick different subscription options. You can receive it for only a month, buy a six month subscription, or a twelve month description. The price goes down the more month you purchase. There is free shipping on all subscriptions. You can also give a subscription as a gift. Wouldn't that make a wonderful gift for a child? So many gifts we give our children are quickly forgotten. They become bored with them easily. This would be something they could enjoy month after month.
Their website has so many creative ideas that are free. There are activities ,printables, and DIY projects. I use to be a preschool teacher. This site would of given me so many wonderful ideas. My kids are now teenagers, but I still work with small children. I could implement so many of these ideas.
Most of my readers are dealing with a chronic illness and raising small children. I know it can be hard coming up with ideas to do with your children when you have limited energy.  These kits would be perfect because they come with everything you need! Just open up the box and start creating! For a limited time if you subscribe for three months  or longer you get the third month free!
What kind of activities do you like to do with your children?
This post contains affiliate links. Please see my about page for further details.