I have been given this product as part of a product review through chronic illness bloggers network. Although the product was a gift, all opinions in this review remain my own and I was in no way influenced by the company. I have been interested in essential oils for the past year trying out a few like peppermint and lavender. I was jumping up a down when I was given the opportunity to try out one of the beautiful wooden essential oil diffusers from  Organic Aroma. I had already purchased a small plastic diffuser, but this was so much better!
It came in this beautiful box.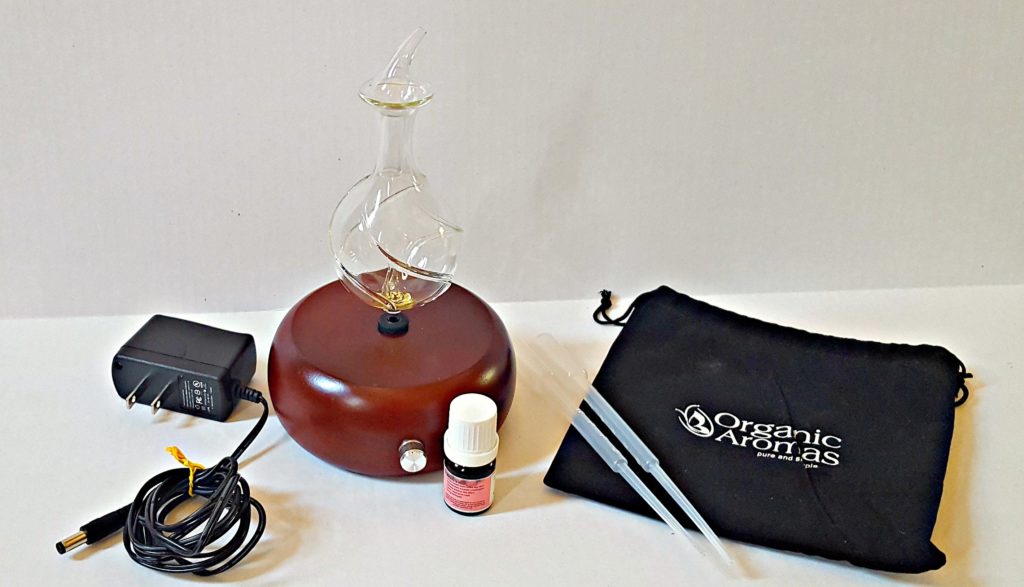 When I opened the box, this is what I found. It came with this elegant wooden essential oil diffuser, which is just one of many wooden essential oil diffusers. This was the Radiance model. It has a custom blown glass diffuser on top with a glass cap, and a rubber grommet to insert the glass diffuser. The base is high quality, handcrafted imported  plantation hardwood. It also came with two droppers to clean the micro-tubes with rubbing alcohol, a bottle of their signature oil blend and a felt bag to carry it all. I liked the felt drawstring bag for keeping it all together best of all!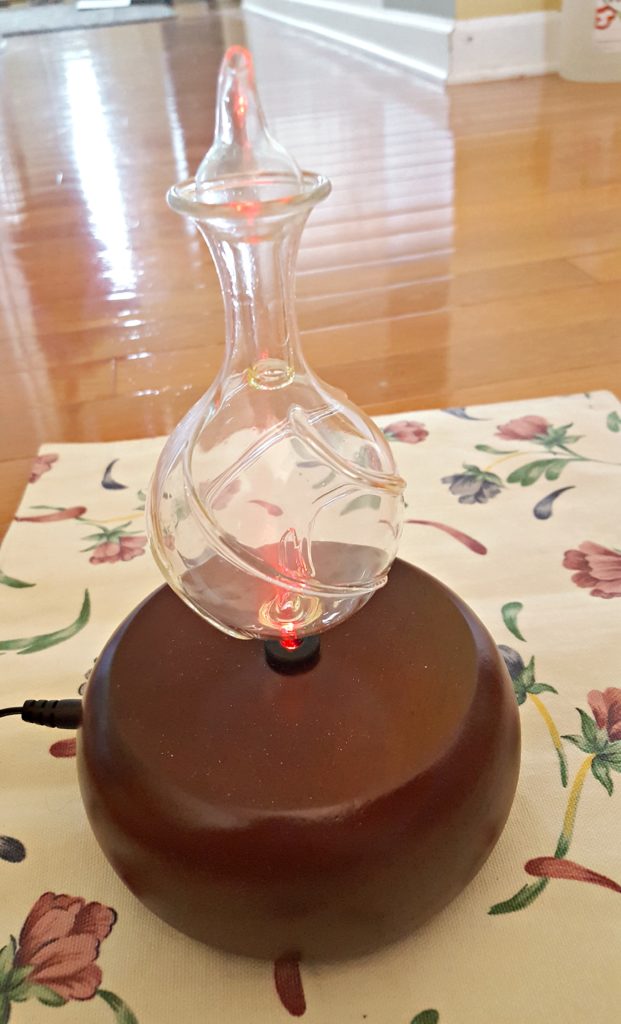 What's unique about this diffuser is that there is no water or heat involved! It uses very little energy and doesn't make any noise. It uses pressurized air, giving you the most      therapeutic effect of the 100% pure organic essential oils.
Before I was given this beautiful diffuser. I bought a plastic one that uses water. I noticed the smell wasn't very strong and thought maybe I wasn't using enough essential oils, but I had used 10 drops which I thought should be plenty. Now I know that's because the essential oil was being diluted by the water. Organic Aromas diffusers just give off the scent of pure oil. The result was amazing! What I also liked about it is that it dispensed the scent over a large area. With my old diffuser I had to have it sit right in front of me in order to smell it.
When using your diffuser be careful when removing or inserting the glass diffuser into the rubber grommet. You don't want the glass to break! I like the fact that it comes with a low high off switch for your preference. It runs for two minutes on and one minute off and a auto shut-off after 120 minutes.
These beautiful wooden essential oil diffusers will last for years and can be left out because they are a work of art. They also carry hand carved diffusers, and essential oil as well.
I can't wait to try out some new essential oils with my new diffuser like bergamot to help clear the mind and chamomile for it's calming properties and help with concentration. I will still use lavender for sleep and peppermint  for headaches and energy.
I highly recommend Organic Aroma wooden essential oil diffusers. They not only help you make your home smell nice and improve your health, they also beautify your home. What kind of essential oils do you like to use? I would love to hear your suggestions!