Did you know that January is National Oatmeal Month? Oatmeal has been a breakfast staple for a long time. It's full of fiber (soluble and insoluble), protein, and minerals. There are steele cut oatmeal, quick cooking oatmeal, and instant. Sometimes you get tired of plain oatmeal though. Sometimes you want to add sweetness in a more  natural way. I am going to share with you ten new ways to eat oatmeal without adding sugar!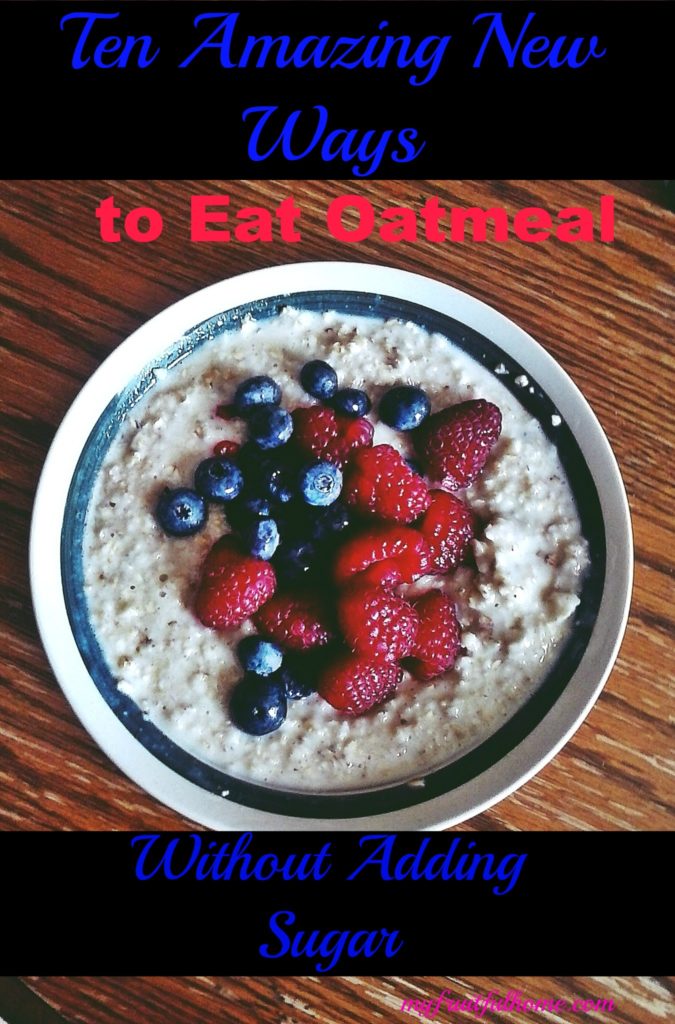 Ten Ways to Eat Oatmeal Without Adding Sugar
Pumpkin Steele Cut Oats:
I love pumpkin in the fall and winter. Especially pumpkin muffins. I decided to try my hand at pumpkin steele cut oats. It also has quinoa in it, which I'm trying to include in my diet more often. I really enjoyed the flavor of the pumpkin. I decided to leave the cranberries out, but think I will try them next time.
Bananas and Vanilla
Add a teaspoon of vanilla to your liquid of choice when making your oatmeal. Cut up one  banana and stir it in at the end. I love the combination of vanilla and banana! So simple and delicious!
Apples and Cinnamon
When I was microwaving oatmeal one day I decided to cut up some apples and add them before microwaving. I even left the apple skins! When it was done cooking I added a dash of cinnamon. It was delicious and I  was hooked! You could also make this on the stove top. Add the apples and cinnamon to liquid before bringing to a boil.
Peanut Butter and Dark Chocolate
I love the combination of chocolate and peanut butter! Anyone love Reese's peanut butter cups? After preparing your oatmeal, while it's still warm, add 2 tablespoons of unsweetened peanut butter and 1 tablespoon of dark chocolate chips. Stir until the chocolate chips start to melt. So good!
Almond Milk with Almond Butter
Almond milk is all the rage right now if you're trying to stay away from dairy. Just use it in place of milk or water when preparing your oatmeal. When it's still hot stir in a tablespoon of almond butter. While you're at it why not stir in a handful of almonds for extra protein.
Add Dried Fruits
Try adding dried fruits such as cranberries, raisins, apricots and even dried cherries. You could add them at the end or before you cook your oatmeal. My favorites are apricots and cranberries.
Peanut Butter and Jelly
I love using all fruit jelly in my oatmeal. My favorite is seedless raspberry. I mix a tablespoon of jelly and a tablespoon of peanut butter in my oatmeal while it's still warm. It's that simple! You now have have peanut butter and jelly oatmeal! Try it out on your kids if they love peanut butter and jelly sandwiches and see what they think. My kids are teenagers and I haven't tried this with them yet.
Maple Syrup and Chia Seeds
Add a couple of tablespoons to your oatmeal after it's done cooking. Then add two teaspoons of 100% maple syrup while it's still hot. Yum! You can also use chia seeds in overnight oats as in this recipe.
I also love fresh blueberries and frozen raspberries in my oatmeal. As the frozen raspberries start to melt it starts to add just the right amount of sweetness!