We all know that breakfast is the most important meal of the day, but who has the time or energy to come up with healthy options first thing in the morning.  I am always keeping a look out for fast and healthy breakfasts.  I don't want to spend a lot of time in the morning, but I'm usually hungry!
We also want to be able to provide our kids with  fast and healthy breakfasts, especially before they go to school.  Protein is so important to help them focus and satisfy their appetite. I found a few great ideas on Pinterest and other places for fast and healthy breakfasts.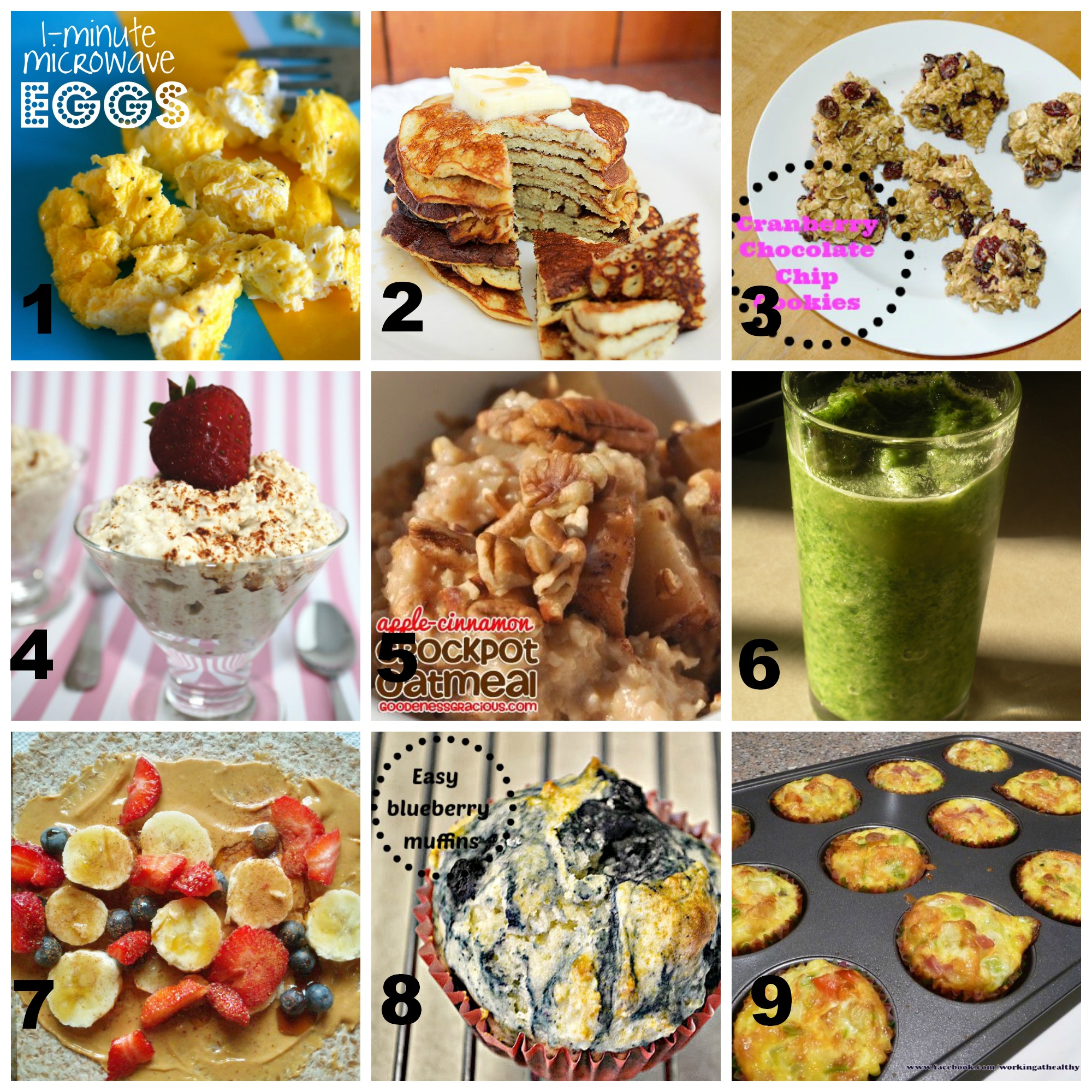 1. One Minute Microwave Eggs come from the blog I Can Teach My Child.  I love having scrambled eggs, but I don't love having to wash the frying pan when I'm done.  Now you can use one bowl for preparation and cooking.  You could even eat it straight out of the bowl!  Easy cleanup!
2.Who knew you could make pancakes with only two ingredients!   Two Ingredient Banana Pancakes comes from From Away.  I can't wait to try these!
3.I know one probably doesn't think of cookies as a healthy breakfast ,but Cranberry Chocolate Chip Oatmeal Cookies  have some pretty healthy ingredients.   Using Domino Light helps cut down on the sugar. Tis recipe comes from my blog.
4.Overnight Oatmeal comes from Dana's Food for Thought.  It's made with vanilla almond milk and oatmeal. The best thing about this is it will be ready when you get up in the morning.
5.I have been trying to eat more steel cut oats because they are healthier, but they take a little more time to make.  Anything I can make the night before is something that I am going to want to try. Crock Pot Steel Cut Oats from Recipes That Crock sounded perfect! I was going to try freezing it in individual serving sizes with some berries in it.
6.This is another recipe from my blog.  I got it from The Doctor oz Show.   I am always getting helpful hints and recipes from that show.  This Energy Smoothie looked and sounded delicious, so I decided to try it. It is full of wonderful and healthy ingredients.
7.This next recipe is from the Daniel Fast that's very popular.  It's called a Breakfast Energy Wrap. Doesn't it look delicious?
8.Easy Blueberry Muffins are one of my favorite muffins because they are so fast to make.  They use pancake mix.   To make them even healthier you could use whole grain pancake mix.
9.Egg Muffins are the perfect grab and go breakfast.  They just take a little preparation ahead of time. They are like little omelettes!
What kind of fast and healthy breakfasts do you like to make?  I would love to hear them in the comments.