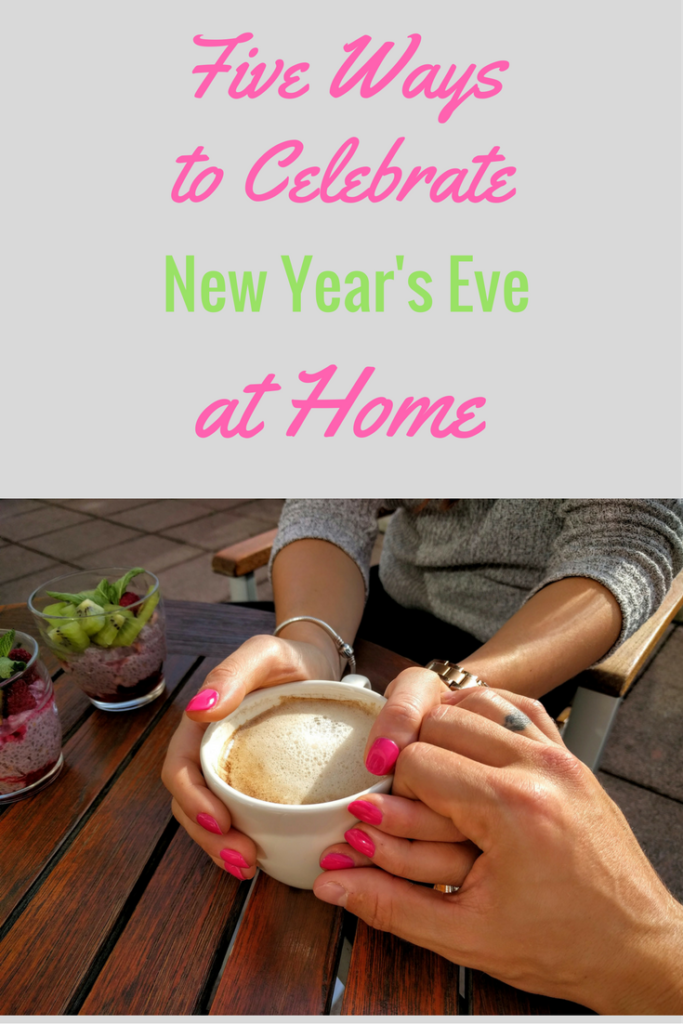 Do you feel like you are the only one staying home for new year's eve? Believe it or not New Year's Eve is my least favorite holiday. The reason is that  I am not able to stay up until midnight. Well, I could, but I will pay for it for the next three days. I have to plan accordingly. Whatever your reason for staying in, I hope you find an idea or two in my list of Five Ways to Celebrate New Year's Eve at Home. Maybe you can even bring the new year in a little bit early. It has to be midnight somewhere in the world!
Five ways to Celebrate New Year's Eve at Home
Cook Dinner Together… or Order Takeout
Pick a simple menu. You can find many ideas on Pinterest. I have many ideas on my recipe board. If you're not up to making dinner order a pizza. One of our local pizza places also has a full Italian menu including homemade cheesecake! Their food is really good. If you want something on the healthy side try ordering Chinese food, but order the sauce on the side. If you order pizza load it up with lots of veggies, thin crust, and don't get extra cheese. if you have grub hub in your area.
Rent A Movie or Two
Rent something light hearted or a good comedy. Pop a big bowl of air popped popcorn with light butter and Parmesan cheese or any topping you would enjoy. i like trying new flavors! I love using Redbox for movies. A DVD is only $1.50 and Blu-ray is $2.00. I have e-mails and text messages sent to me once in a while. You can sign up on Redbox. You can also rent movies on Amazon. Right now you can rent movies for only 99 cents! This offer expires on January 23rd.
Make A Dance Floor in Your Living Room
Who says you can't dance in your own home? I'm talking slow dancing with your spouse. Make a playlist ahead of time with some tunes that remind you of your earlier days and some current ones too. Just clear out some space. If it happens to be in the same room as a fire place even better! Why not have some party hats ready to wear as well!
Have Your Own Balloon Drop
Have you ever been out somewhere where there's been a balloon drop? It can be quite fun to stand underneath one. Why not make your own balloon drop? You just need a few items you can get at the Dollar Tree. You can get the instructions here. Your makeshift dance floor would be great
Play A Board Game or Answer Questions Together
Do you and your friends or spouse like to play board games? Some classics include Monopoly and scrabble. If playing games is not your thing you can take a look back at 2016 and answer some reflective questions together. Here are some good questions from Eileen  Chadnick on Huffington Post. I also found a really cute questions kit that you can print out from The Dating Divas. They have a lot of other great ideas as well.
I hope you enjoyed this post, Five Ways to Celebrate New Year's Eve at Home.