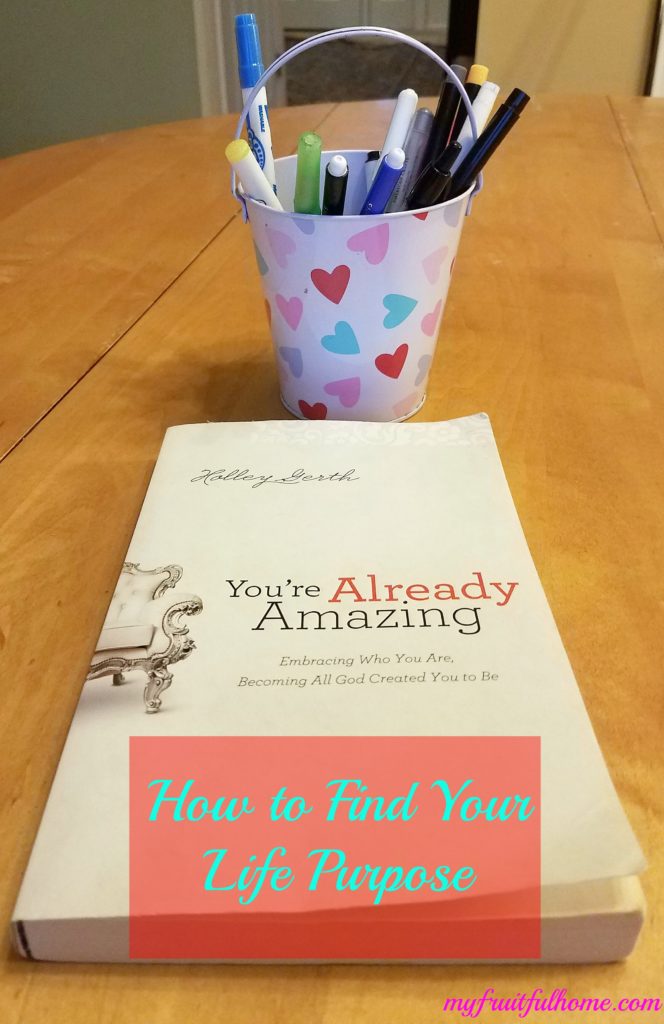 Have you ever wondered how to find your life purpose? Holley Gerth will help you do just that in her book, You're Already Amazing-Embracing Who You Are, Becoming All God Created You to Be" I love this quote from the back cover, You don't have to do more, be more, have more."   This can be difficult to remember especially if you live with a chronic illness or any limitations.
If you have read my blog for any amount of time you know I'm a big fan of Holley Gerth! Reading her books is like talking to a friend. You can read my review on two of her other books here and here. I think people in the chronic illness community can really relate to the quote above. So many times I've compared myself to others who don't have a chronic illness and even to those that do, feeling like I am not enough. How about you? Do you ever feel this way?
The book is divided into eleven chapters with questions at the end of each chapter such, as Who Am I?  They only take about 5 minutes to complete. There are great writing activities throughout the book as well to help you find your life purpose. If you want to go even deeper there is the Go Deeper Guide at the end of the book for individual or group reading. I happen to be a person who likes being introspective. If there are too many questions for you you could always start with the ones at the back of the book.
The book talks about strengths, skills, and social circles among other topics. Chronic illness can take so much from us. It effects our self esteem and our sense of purpose. This book helped me to realize that I'm fine just the way I am. But it also inspired me to find or remind me what my passions and abilities are. I can still have a purpose even with limitations.
Some of the other chapter titles include Why Is It So Hard to Believe I'm  Amazing?, Why Do I Feel This Way?, How Do I Connect?, and What Does God Want Me to Do with My Life?.  These topics have always been something that intrigue me. I am a connector by nature. That's something that has been hard for me to adapt to living with limitations. It's hard to connect when you're not always able to get out of the house or your energy is nonexistent. We have to get creative and think out of the box.
I have also wondered if what I'm doing, by being a part time nanny and blogger, is really what God has for my life.  I love doing both, but they take up a lot of time and energy and I'm not making the money I need.  Questions I ask myself when it comes to my blog are, "Am I just wasting my time and energy?"
Holley states in chapter seven, "We're amazing not because of who we are but because of who lives within us." I talked about our worth in a previous post reminding us that we are enough. Being reminded of this on a daily basis helps me find my way. It is comforting to know that we are not defined by our limitations or even what we can accomplish. Our worth comes from our creator. She also quotes Galatians 5:6: "The only thing that counts is faith expressing itself through love." This is one of my favorite verses. It is another reminder that we don't have to strive to do more to be productive, we don't even have to follow a bunch of rules, the most important thing to do is love people, God and yourself. If your faith doesn't produce love then it really doesn't amount to anything.
I'm sure you've realized by now that I highly recommend this book. If you are trying to find your life purpose or needing to refine it, this book is for you. If you need some encouragement reminding you how much you are worth, then this book is for you. If you have read this book I would love to hear your thoughts!