Music is such a healer for me. I have always been moved by music, especially inspirational Christian songs. So many times the words have come at just the right moment. There have been so many good ones lately that speak to my heart and seem like they were written just for me. My family has been going through a hard time right now. I can't say what that is, but Christian songs for encouragement have been a Godsend. You can see my first top ten favorite Christian songs for encouragement here.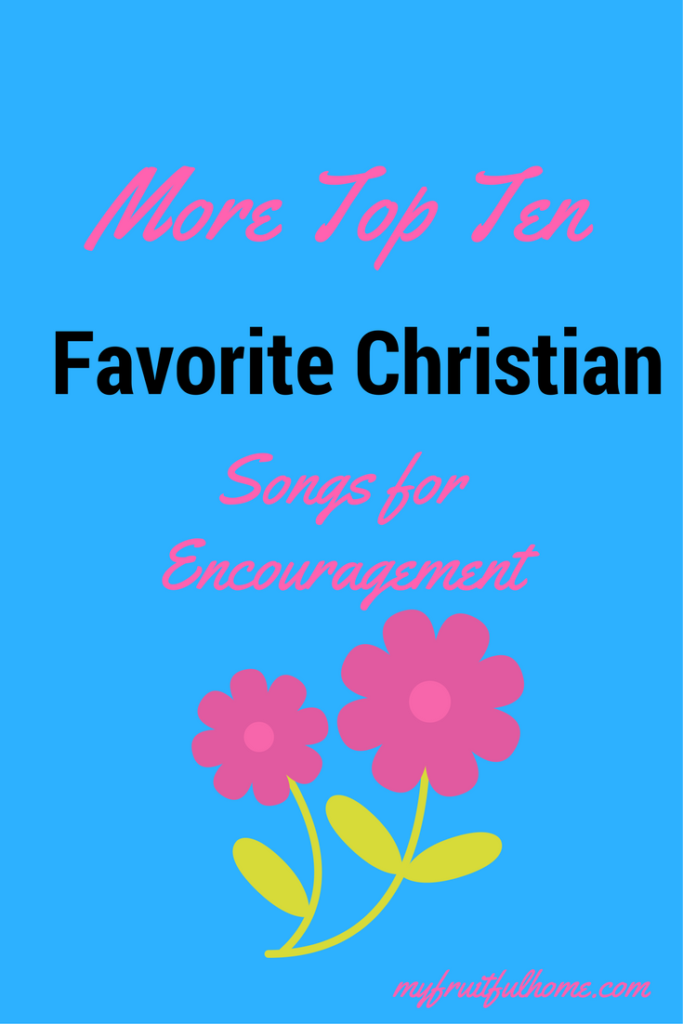 Just be Held by Casting Crowns- This song really hits home when I'm feeling discouraged and helpless. It reminds me of the scripture, Be still and know that I am God. Psalm 46: 10
Oh My Soul by Casting Crowns- This is my favorite song at the moment. I've been going through a season that has been causing me fear and anxiety at times. I love the line "There's a place where fear has to face the God you know" That puts things in perspective for me.
Hills and Valleys by Tauren Wells- This is a new musical artist to me, but I really like this song! We all go through hills and valleys.
I Have This Hope by Tenth Avenue North- I have been listening to this group for a few years. Their songs have always spoken to me right where I am. This song came out at the right time!
Even If by Mercy Me- I like how the words are so transparent and talk about the real struggle of believing, even when things are hard.
Live like Your Loved by Hawk Nelson- This is a great message on not having to be perfect or having everything figured out. Just think how different our lives would be if we lived like we're loved. Like we're already victorious.
Beloved by Jordan Feliz- This song goes out to my teenage kids. I don't ever want them to feel like they're not enough. I want them to know that they are precious and loved beyond measure. I could use that reminder myself from time to time.
You Are Loved by Stars Go Dim- This song's theme is very much like the previous one. a great reminder of how well we're loved!
Tell Your Heart to Beat Again by Danny Gokey- I love Danny Gokey's songs. I remember years back I was upset that he didn't win American Idol. I'm so glad I get to hear his songs anyway. This song is about starting over and about taking another chance. Love this song!
Prove Me Wrong by Mandisa- This is such a raw song from Mandisa's new album. It's about loss and not receiving what we wanted. It's about being honest with God and asking hard questions.
These are my top ten favorite Christian songs for encouragement. I hope they touch your heart like they've touched mine. I hope you find healing. What are your favorite Christian songs for encouragement?