Nothing says summer like healthy frozen treats! Summer is my favorite season. My birthday and my kid's birthdays happen in the summertime. My anniversary is also in the summer. (Today as a matter of fact!) They can be filled with sugar and artificial ingredients though. That's why I like to make my own yummy healthy frozen treats.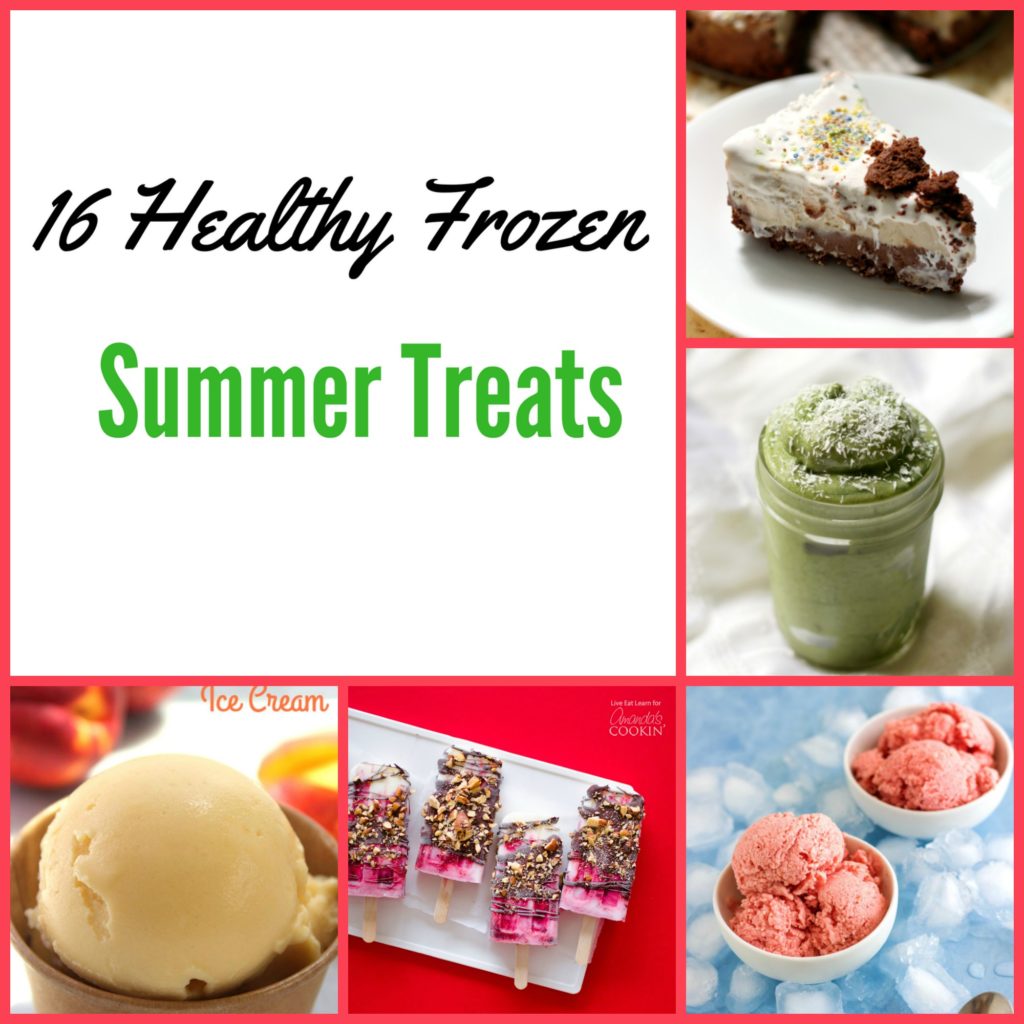 I have found 16 frozen treats that bloggers have shared with me. I can't wait to try even more of the recipes. They all look so refreshing and delicious. The best thing is there are no artificial ingredients and either low sugar or no sugar! Yummy, natural ingredients like honey and stevia.
16 Yummy Healthy Frozen Treat
1. Low Carb Chocolate Mason Jar Ice Cream  "had me at hello" it looks so creamy and delicious!
2. I love that this next recipe, Easy Strawberry Banana Ice Cream has only 3 ingredients. It does call for a little bit of sugar. I don't know why you couldn't swap it out for stevia or leave it out all together. This frozen treat comes from comes from Jen at Cincy Shopper.
3. Green Smoothie Popcicles is one great way to eat your morning smoothie, or any time of day. This recipe comes from Amanda's Cookin'.
4. This recipe from  Dancing through the Rain is super simple! Only two ingredients! Try making Blueberry Peach Popsicles with your kids!
5.  Apricot Coconut Popcicles is made with coconut which gives this a tropical flavor. Thanks Julia from Happy Foods!
6. Here's another frozen treat with coconut from Strength and Sunshine, Coconut Matcha Ice Cream. I have heard a lot of about the benefits of matcha, but have never tried it. What better way to try it than in a frozen treat!
7. Here's another frozen treat from Strength and Sunshine. I love how Rebecca came up with a way to make an ice cream cake that is much healthier! "Better Than Carvel" Homemade Gluten- Free Vegan Ice Cream Cake.
8. I love peach ice cream! I don't get the chance to eat it very often though. I remember when I was growing up I would order peach ice cream at our local Friendly's. This is from the Cincy's shopper. Make sure to try her Blender Peach Ice Cream as well as the strawberry.
9. Here's one more from the Cincy Shopper, Caribbean Slush!
10. My kid's loved creamcicles growing up. I love how this one adds ginger for an unique flavor. The ginger comes in cubes! Ginger Orange Creamcicles are sure to become a new favorite from Mary Ellen at V Nutrition!
11. Cherry Popsicles adds a nice variety to your frozen treats list! Why not try Cherry Yogurt Popcicles.
12. I absolutely love raspberries, so when I found this recipe for Sugar Free, Gluten Free, Low Carb Raspberry Ice Cream I knew I had to included it!
13. My new favorite fruit is mango. I love adding it to my smoothies. I've never tried them in a Popsicle though! Try Mango and Yogurt Pops!
14. I've been trying to find paleo recipes that are great for summer. These Paleo Mixed Berry Coconut Creamcicles sounded so good!
15. Pina Colada Popcicles sound divine! They are from the blog Living Sweet Moments!
16. These Sugar Free Strawberry Lemonade Popcicles sound so refreshing! They also have a secret Ingredient! They come from The Fit Blog.
Are there any other healthy frozen treats that you enjoy? You may also want to see some of my other food roundups, such as Fast and Healthy Breakfasts